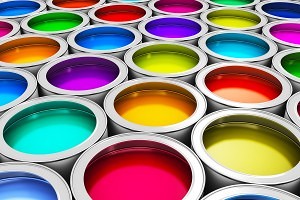 Does the color on your walls look dull or faded? By following just a few of the steps in this interior painting guide, you can use interior painting to turn your home into a vibrant space that you love coming home to every day.
How to Choose Paint Color
The first thing you will want to think about with interior painting, is the existing furniture and decor. Most decorators will choose a color based on the existing elements, rather than picking a paint color first and designing the rest of the room decor around it. Find the favorite pieces in your room, then you can look at picking colors that blend in with, or complement these pieces.
Another thing you will want to take into consideration is what kind of lighting the rooms in your home have. Do you have a lot of natural light, or do you rely on artificial lighting to brighten certain rooms? The type of lighting you have will affect how certain colors look and feel in a room.
Once you have some general ideas of what colors may work when interior painting, finding pictures of homes that are painted in similar color schemes can help you get further ideas, or even give you a room that you can copy cat.
The next thing to do is to head to your local paint store and start collecting color samples. Work in color families to help you select paint chips that will go with the items in each room throughout your home. You can then bring these paint chips home and hold them up against these existing pieces, or stick them up on the wall for a couple of days. This will give you a sense of what the color will feel like in the room.
Using Color to Set the Mood
By using different colors in each room in your home, you can help set the right mood. Colors that create energy are often good for spaces such as the kitchen, or an office, while calming colors work well in bedrooms and living spaces. Depending on what mood you are looking to set, you can choose colors that will enhance that type of energy.
Blacks – If you have a space that has a lot of natural light and you are looking to create an elegant or modern feel, black can work well.  Feature walls in black often work best so that a room does not feel overwhelmed.

White – White may sound boring but it can work well to make a space feel light and airy. White is great if you are looking to bring a calming or minimalist feel to a room.

Blue – Blue can be a very calming color, reminiscent to water, depending on what shade you choose. Blue is also a very versatile color with many different shades to choose from.

Yellow – If you are looking to turn your space into a vibrant, engaging space, yellow is a great choice. Yellow often works well in kitchens where you are looking to entertain and bring people together.

Pink and Reds – Both of these colors can bring passion into a space which is why you may often see these colors in bedrooms. Deep reds or brighter reds can also work well in a dining space or kitchen, as the right shade will bring a feeling of vibrancy to a room.

Green – Look outside and you will see green everywhere, green is a refreshing color and can leave you feeling relaxed.  This makes green a great choice for any space, from a cottage green in the kitchen to a hunter green in the bedroom.
Creating Harmony with Interior Painting
When painting your whole home, you will want to create a flow throughout the house. This will allow your home to feel like a cohesive space. Here are some tips to help you use color without separating or overwhelming certain spaces.
Don't use too much of one color, as this will lessen the impact of the color and make your home seem monotonous.

While you shouldn't use the same color on every wall throughout your home, incorporating one or two colors into each space can help pull the rooms together. This can be done through using one color in different ways, perhaps paint all walls in that color in one room, then as an accent wall in the next room, then in an accessory etc.

By using neutral tones in areas such as hallways and entryways, you can help unify the different colors used in separate rooms throughout the house. This broadens your color choices by allowing you to choose colors that would otherwise clash if placed right next to each other.
The Ceiling
When choosing paint colors people often overlook the ceiling, however choosing the right color for your ceiling can pull the whole room together and create a look that is sophisticated. No matter what color you choose for your ceiling, you will want to make sure it complements your wall color. Here are a few more tips to keep in mind when painting your ceiling.
If you have a home with an open floor plan, it is a good idea to create flow by using the same color on your ceilings throughout the home.

If you have a roof that is textured, white or cream works best. This will help deter attention being drawn to the roof and the ceiling taking over the whole room.

If you are looking to add height to your room, using a light color on the walls, alongside pale blue on the ceiling, can give the appearance of height.

Likewise if you are looking to bring a space down and make it feel cozy, then darker colors work best on the ceiling.

Small spaces can be made to appear bigger by using a matching light color on both the ceiling and the walls.
Contact the experts at Painting Craftsmen with any questions you may have regarding interior painting and application.