Garage Floor Coatings in Jacksonville, FL
From The Painting Craftsmen
A high-performance garage floor coating is a luxurious feature of any home, but the days of epoxy floors that do not stand the test of time are long gone.  Properly applied, an industrial-grade polyaspartic finish is not only a beautiful and decorative element in a garage, but unlike epoxy will be a truly trouble free, long lasting solution.  While it looks just like an epoxy garage floor and will make your garage much easier to clean and maintain, it will provide a far more advanced chemically-resistant coating over your concrete to better withstand vehicle traffic, abrasion, stains and spills.
Features of The Painting Craftsmen's better than epoxy garage floor coating system:
State-of-the-art, commercial-grade polyaspartic formula – far superior to epoxy floors
Durable and long-lasting finish – far more resistant to chemicals, abrasion and fading than epoxy in your garage
Unlike epoxy flooring – no hot tire pickup
Will not chip, crack, or peel like epoxy floors
Transforms your garage from a dingy concrete room to an extension of your home
Available in a variety of designer colors
Provides a slip-resistant yet beautiful gloss surface
Easy to clean and maintain
Backed by our workmanship guarantee for an incredible 15 years
Decorative Flake Samples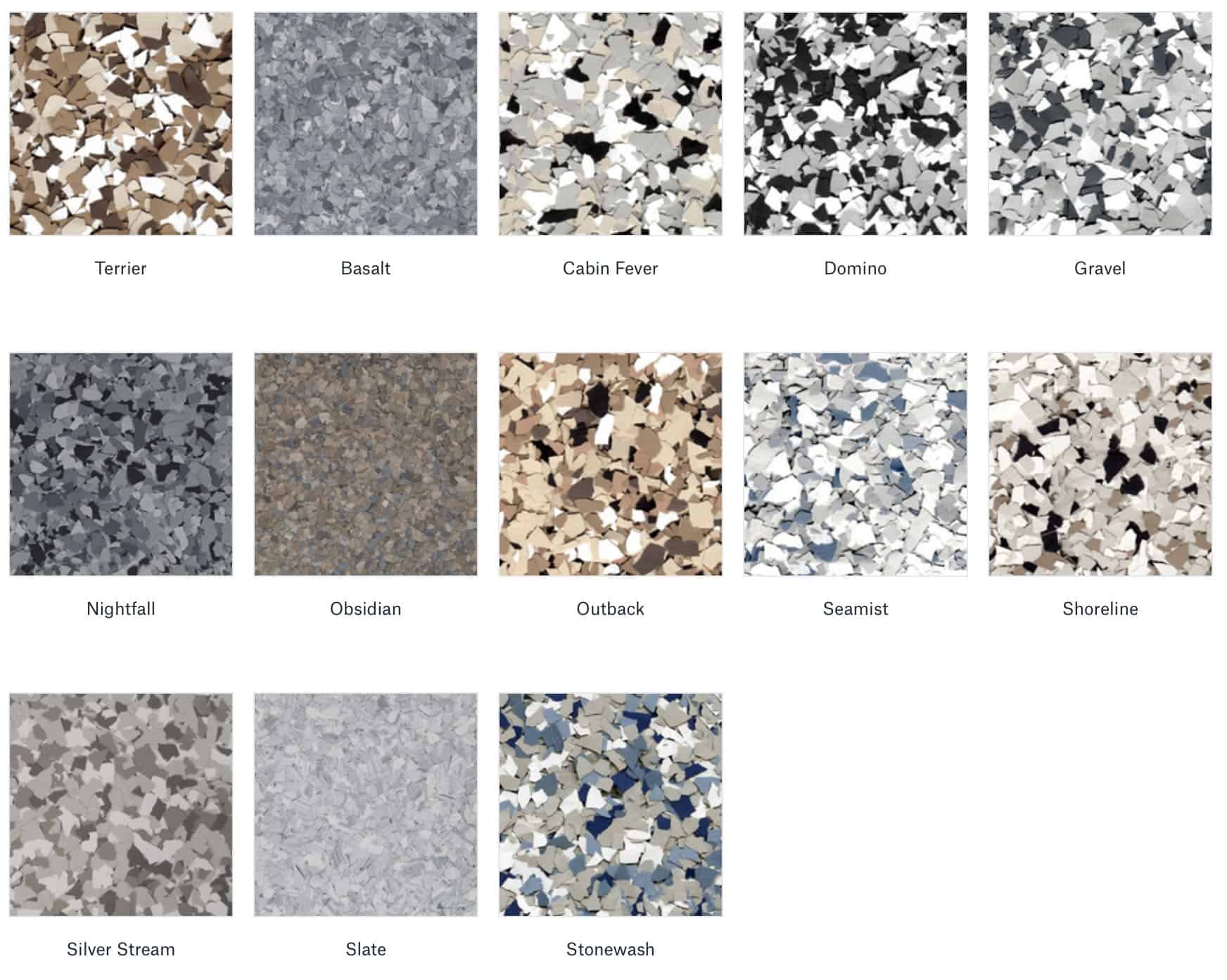 Not Like Epoxy
Unlike the "do-it-yourself" epoxy flooring kits that you can find at the big box stores, our polyaspartic garage flooring service is guaranteed to live up to your expectations for the long haul.  Our garage floor coating system starts with thorough garage floor preparation including grinding, etching, and cleaning the surface.  We then install a primer, tinted base coat, and great colored texture, which is then finally topped with a durable, glossy finish coating that will last for years and years.  Depending on the size of the garage, our polyaspartic garage floor installation process can usually be completed in just a single day and the floor can usually be put back to full use within 24-48 hours after completion.
High-performance garage floors are no longer just for "car guys" and mechanics. Your garage is an extension of your home and the floor is likely the first thing you see when you pull into your garage. A colorful and easy-to-clean garage floor coating is the starting point of any garage makeover or organization project, and will make you the envy of your neighborhood.
We Fix Failed Epoxy Floors
Did you put down an epoxy floor, or worse yet pay a painter or handyman to install one in your garage for you?  We can help, just give us a call and we can remove the old paint or epoxy and get your garage floor looking great with our premium polyaspartic solution in no time.
Of all the "do-it-yourself" projects to consider, installing an epoxy garage floor should not be one of them.  This installation process should be left to professionals who have the right equipment, knowledge, and techniques to do the job correctly.  The last thing you want is to put down a beautiful floor that ends up peeling up under your tires within weeks.  Don't confuse The Painting Craftsmen's premium polyaspartic garage flooring with cheap paints or epoxies that flake and peel.  It takes serious preparation using industrial equipment and products to withstand the daily wear and tear that comes with vehicle traffic, and we are up to the task.
We guarantee the workmanship of our garage floor coating service in Jacksonville for 15 years (excluding normal wear and forceful damage). We cannot be held responsible for adhesion problems due to underground water pressure, the settling or shifting of concrete slabs, misuse, abuse or any other unforeseeable or improper condition.
For more information about garage floor coatings in Jacksonville or to schedule a free estimate, please call 904-507-5700 or email contact@paintingcraftsmen.com.