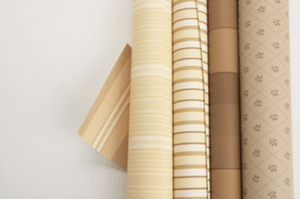 Wallpaper enjoyed many decades of popularity before being eclipsed by paint as the wall covering favorite.  Wallpaper popularity peaked in the '70s, and continued into the '90s, before falling out of fashion.  It was then relegated to powder rooms, synonymous with outdated homes, and all but forgotten, perchance on purpose.  Now, wallpaper is slowly making a comeback, but with a fresh approach.
The Growing Trend Of Wallpapering
Three overarching concepts seem to be fueling the wallpaper comeback.
1) Abandon the rules of the past.
Homeowners and wallpaperers in the '70s and '80s subscribed to the notion that all four walls need to be wallpapered.  On top of that, they liked to incorporate a wallpaper border whenever possible.  They believed that every room in the house should be papered, yet no more than one pattern should be used per space.  These standards and norms are now gone.  Wallpaper borders are out.  Papering every inch of every room in the house is out.  And the rooms you do decide to paper are not limited to a single pattern, but can include whatever colors and patterns you want.
2) Take advantage of changes in wallpaper technology.
One of the worst things about wallpaper was the hassle of putting it up, and even worse, removing it.  Anyone who put up wallpaper in the past remembers the angst of having to perfectly align the rolls of paper to maintain the pattern, all while making a giant mess of wallpaper paste.  Removing wallpaper was even worse, and often involved soaking the walls in order to remove wallpaper in tiny, gummy bits, often at the cost of several dents to the drywall.  Wallpaper today is different.  Changes in its technology make many brands of wallpaper far easier to apply to the wall.  Sticker-style adhesion allows for easy hanging without damaging the wall itself.  Removing this type of wallpaper can be as easy as peeling it off in a single sheet.  Some types of wallpaper are even reusable.  Wallpapers are available in vinyl and other scrubbable materials, making them a great option for households with kids and pets, or for use in the kitchen or bathroom where grease and grime can be wiped clean, and steam will not absorb.  Some contemporary wallpapers are fabricated on a nonwoven substrate, making it easy to hide imperfections.
3) Personalize your space.
The overarching trend of wallpaper is the ability for self expression and personalization.  As in other design trends, homeowners are looking for ways to let their personalities and tastes show throughout their homes.  Most homeowners are less likely to buy rolls of wallpaper right off the shelf.  Rather, they prefer boutique stores, trendy online stores, and customized design.  Here are some of the specific trends in contemporary wallpapering:
Bold colors – The bolder, brighter, or deeper the color, the better.  Bright accent colors, gold fleck, and metallic papers are all gaining popularity.  Neutrals are available too, including every imaginable shade of gray.

Bold patterns – Oversized floral patterns and foliage, overscaled geometric shapes, and other big patterns are extremely popular in wallpaper trends.  Other patterns, including animal prints, arrows and stripes, houndstooth, chevron, and even kaleidoscope patterns are growing in popularity, too.  Pinstripe, floral, and paisley patterns were popular in the '70s, and they are again today, but with fresh colors and modern flair.

Tactile paper – Many contemporary wallpaper manufacturers are incorporating additional materials into their designs, thus giving their papers a multidimensional look and unique textures.  For example, some papers include feathers, gemstones, threads, and textured powders, and some wallpaper designers include beads and seashells into hand painted designs.

Placement – Unique placement plays a big role in modern wallpapering trends.  Rather than cover all walls in a wallpaper and border, homeowners and designers are now more discerning.  It's more common to paper a single accent wall, or an architectural feature, or to include wallpaper above a picture rail or among ceiling beams.
The wallpaper trend seems to be gaining speed, and it's easy to see why.  Wallpaper is now easier to handle, and its fresh designs appeal to homeowners of all kinds.  Wallpaper is proving to be an excellent way to imbue your home with your own personality and customize it to fit your family's interests, tastes, and even needs.
Jacksonville FL Wallpaper Experts
The Painting Craftsmen technicians are experts at thoroughly removing old wallpaper and putting up new wallpaper.  If your home is feeling dated, with faded and curling wallpaper, we'd love to remove it from your walls so you can start anew.  Our technicians will save you hours or even days of hassle and sticky messes.  Better still, we'll cover your walls in the color, pattern, or print you desire, whether it's a fresh coat of paint, or a bold new wallpaper design that is perfect for your home.  We specialize in transforming interior spaces and would love to get started on yours.  There are many Jacksonville FL painting contractors, but only we will give you and your home both the unparalleled care and the quality service you deserve.