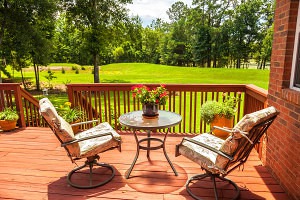 Has your outdoor space been neglected over winter? Does the landscaping look like an overgrown jungle due to the lack of lawn care or the deck look dilapidated due to the constant beating from the weather elements? If the exterior of your home, your backyard or other outdoor areas are beginning to look a little worn, now is a good time to consider doing something about it. Springtime is one of the best times of the year to take care of improvements around your home or spruce up your landscaping to get it ready for summer entertaining and relaxation.
Give Your Home's Exterior a Facelift
While you didn't have to contend with the cold, harsh weather that our neighbors to the north went through this winter, having a home in Florida does present some of its own unique problems. Living in what is considered a tropical area with hot summers, long rainy seasons, high humidity, and no dry season to speak off, the outside of your home does take a beating. It is more than likely your home's exterior could benefit from a little extra attention this spring.
The hot sun can damage the exterior of your home and cause paint to chip or peel. Stained surfaces may fade and even start to flake. Stucco surfaces may be in need of cleaning or repairs from cracks or blistering. You may have even noticed the growth of mildew around the outside of your home from the humidity.
Left unchecked, this aesthetic damage can worsen into damage to the external structure of your home. This is where the skilled professionals from The Painting Craftsmen can help restore the beauty of your home by:
Refreshing the exterior of your home with our stucco repair, deck and fence refinishing, pool deck coating and pressure washing services.
Painting or staining your home with specialized paint or stains meant to withstand UV rays and moisture damage and inhibit the growth of mildew.
Freshen Up Your Concrete Patio for Summer Pool Parties
If you are like most Floridians, you probably enjoy spending a lot of time cooling off in your pool during the summer. However, your concrete patio pool area may need some TLC before the season starts. The Painting Craftsmen offers the services that your patio needs!  We offer:
Concrete Stain Pool Deck Coatings
Acrylic Concrete Pool Deck Coatings
Paver Sealing and Cleaning
Concrete Crack Repair
Settled Paver Re-leveling
If your concrete pool patio is looking a little dingy, now is the time to have it cleaned to remove any stains or mildew that may have accumulated over the winter or repair any cracks in the concrete and uneven pavers. Combine services to have your pool deck look like new!
Get Your Wood Deck Ready for Summer Entertaining
Decks are built to enhance the quality and quantity of your back yard usage.  Wooden decks do not always have a long life because they are exposed to harsh elements like sun, rain, and humidity every day.  Wood rot is often the culprit as indicated by faintly cupped deck boards that hold puddled water.
Refinishing a deck can add years to its life, even those that are in a serious state of disrepair.  The professionals at The Painting Craftsmen offer rotten wood repair, complete deck refinishing and staining services using only the finest materials.  Homeowners are able to choose from clear protective finishes, stain shades that will complement their home and landscaping materials, or solid paint colors that will accentuate the surrounding colors.  The Painting Craftsmen experts evaluate and replace any boards that are deteriorating with new lumber prior to refinishing or staining any deck to help make your investment last longer, while protecting it from mold and mildew growth.
Take time now to clean up and replace your pool patio or wood deck furniture so that you are not rushing around later on when you are getting ready to entertain. You may need a little time to find just the right piece of furniture or accent pillows that will help you achieve the look you want for your patio or deck area. Add some colorful plants to make the area more welcoming and increase its appeal.
Don't Forget Your Fences!
Are your fences becoming an eyesore because they are in need of repair or maintenance? It is amazing what a good cleaning can do to improve the look of your wood fences. Consider having your fences pressure washed to restore some of their original beauty. By having a clear protective finish or new stain applied, you can give your fences a new look and extend their usefulness.
Does Spring Make You Think of Gardening?
One of the benefits of living in Florida is that no matter what time of year it is, you can always have something beautiful growing around your home. However, depending upon the type of plants you want to have you may encounter some challenges because of the nature of the soil in the area. One way to avoid this is to stick with native plants that do well in our area. There is a wide variety of annual/perennial flowers, groundcovers, shrubs and trees in which to choose.
You can depend on the expertise of The Painting Craftsmen when it comes to improving the appearance of your home both inside and out. We can help you get your home ready for the season with our wide range of services tailored to keep your home looking its best.