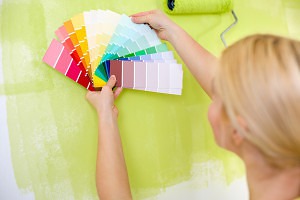 The color on the walls you picked two years ago probably doesn't have the same appeal now as it did back then. Fall in love with your home all over again this spring by making changes and updates to the look and feel of your home. You may be surprised just how much a simple color change can brighten up your house, especially after this year's dull and seemingly never ending rainy winter.  At The Painting Craftsmen, we are dedicated to excellent craftsmanship and technique so we can help transform your home into something new that you never expected.
Spring is the perfect time to make changes to the home. New color brings fresh light and energy into the space, revitalizing you for spring. The palette trends in 2014 are taking a turn to colors with a fresh, energetic, and sophisticated mood. Soft blues, greens, yellows and lavenders will be the colors to keep in mind when creating designs for your homes spring remodel.  A spring remodel doesn't have to be as intensive as it sounds! Our professionals are ready to help you, no matter how big or small the project you want. If you can visualize it, we can make it happen.
Create a space that is uniquely your own, starting right at front door. The front door has become a unique space for homeowners to experiment with color. Bright reds, purples or yellows on the front door are a perfect way to welcome guests into your home this spring. Brightening up the faded color of your fence will also instantly make your home look refreshed. Combine these two updates with the landscaping project you've been planning and the neighbors will all take notice. If you are considering a more drastic change to the exterior of your home, we can help! The Painting Craftsmen specializes in exterior painting and staining services on almost any material. Our services are great solutions for stucco, wood siding, cedar shake, brick, trim, shutters, vinyl, gutters and more. Our professionals are experts in knowing which painting and prepping techniques to use that will last against Florida's extreme weather, keeping it beautiful for years to come.
After this long winter, swimming in your pool is probably more tempting than ever…unless of course the deck could use a little TLC. After years of use, every pool deck starts to look dull and dirty. We offer several pool deck services such as concrete stain coatings, acrylic concrete coatings, paver cleaning and sealing and concrete crack repair. No doubt your pool gets a lot of use during a Florida summer, so let us help to keep it looking beautiful summer after summer, year after year.  The wooden deck might have suffered during the winter months, as well.  The late spring is the best time for wooden deck repairs , as the summer heat will create a brutal work environment.  For more information about our pool deck or wooden deck services, click here.
Having a fresh, new exterior will make you proud to come home to it every day. However, the interior may be even more important to you.  The difficult thing with choosing a color scheme is that this time next year, you might already be over it. Careful consideration must go into the colors you choose for the rooms in your house, since you will be forced to look at it every day. It may seem like an overwhelming task, but there are several free color tools available online to help you pick the right ones.  Here are a few things to keep in mind when picking a color for your space:
Just as you buy clothes based on color and pattern, decorate your home with colors and designs that you feel comfortable and look good in.
Just because a room is small, don't shy away from bold colors. Choose personal and comforting colors over a pale color just because you are hoping to make the space appear larger.
Color schemes are trending towards becoming more eclectic. Create a room with layers of colors versus making every design aspect match perfectly.
Try surprising color combinations to refresh the look of your home.
The good thing, however, is that the color isn't permanent! We also offer wallpaper removal services, cabinet refinishing and textured ceiling repair for all those previous decorating decisions you are now questioning.
The kitchen is often referred to as the heart of the home. Families congregate after work and school to share stories about their day and friends gather around the dinner table on weekends making memories for the years to come. If your kitchen isn't providing a comfortable, enjoyable atmosphere you may want to consider the interior painting services and cabinet refinishing services offered by our pros.  The dream kitchen you pinned on Pinterest isn't as far from your reality as you may think. The cabinets are the centerpiece of the kitchen and whatever you envision in your home's most important room, we have the services to make it happen. The benefits of our cabinet refinishing services include: unlimited color and finish choices, cabinet staining and lacquer finishing, hardware updating and replacement and cleaning and touch-ups. For more information and a full list of benefits, click here.
When you think wallpaper, do you imagine your great aunts green, floral wallpaper in the guest bathroom? Think again. Custom wallpaper is making a comeback, in a big (and improved) way. Wallpaper is now a popular way to compliment your furniture and decor while adding pattern, texture, depth and interest to the room.  Hanging the wallpaper is where the real conflict arises. Our team of experts understands that preparation and an eye for detail are key factors when it comes to completing a successful wallpaper project. Here are a few ways to incorporate wallpaper into your home's spring redesign:
Apply wallpaper between the kitchen cabinets and counter tops to create a decorative, inexpensive back splash.
Add wallpaper on the back of a glass-front cabinet or bookshelf to add depth and eye catching detail.
Dress up the formal dining room with wallpaper as the background, a decorative accent on one wall or below the chair rail.
Spring is the perfect time to start these interior and exterior home upgrades that will invigorate you and your home. Instead of daydreaming about the changes you'd like to make, call us for a free estimate.