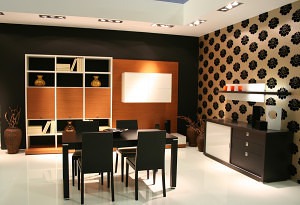 Design trends change every year and sometimes it's difficult to judge what the new styles will be. However for 2014, designs for wallpaper aren't the only thing that's changing. There will also be a shift in what to wallpaper, as some individuals seem to be adding flair to not only their light fixtures and sliding doors but their furniture as well! So, if you want to know what the most in demand patterns, colors, and styles will be for this year, check out the rest of this article to avoid using last year's dated trends. Your friends and family will be impressed with the cool new look and you'll be happier in a home that feels refreshed.
The 2014 design trends are demanding bold colors that are not in a neutral family. The focus is on blending items with unique color combinations into your current environment. Stick with blues, yellows and greys to nail the look. The range of color within the three is quite wide. Choose shades anywhere from extremely light to extremely dark. Mustard yellows may make a return in order to better compliment the different shades of blue, as well. Varied shades of grey seem to be replacing the neutral beiges and creams. Also keep your eye out for shades of jade and emerald. If you aren't sure what particular shades you want, you can always consult a professional in home design.
Floral patterns are making a comeback. Although in truth, they never really died out completely. They were always available on the market in years past. High end designers have repeatedly offered timeless floral prints.
Watch out for another new trend hitting the market; 3D wallpaper patterns! Designers utilize drop shadows behind design motifs to create a floating effect on the repeated image. Within this same thought come varied ideas that would add some flare to any home this year. These include optical illusion wallpaper, personalized illustrated wallpaper or even faux library finishes that give the illusion of bookcases. There are so many design options to choose from that there truly is something for everyone.
If you are into more conservative contemporary designs, you may be drawn to a more traditional approach. Classic brick patterns and wood grains that were once popular back in the 1950's and 1960's are also very in demand this year.
Textured wallpapers, which began in the 1980's, are also hot on the market this year as more and more people turn to a deep sensory experience. What was once in style only in East and West coast homes is now being incorporated into homes all across the country. If this is the look you want, be sure to pick textured wallpaper shades that will compliment glazed tiles in watery blue hues and washed woods to capture the cool coastal feel that's sweeping the nation. To be sure everything turns out right, you might want to consider hiring a professional in interior or exterior painting or wallpaper services. Our professionals at The Painting Craftsmen are trained to do the job correctly and you'll be more satisfied with the results if you don't have experience with wallpaper techniques.
While the thought of installing new wallpaper might seem like a daunting task, new poly fabric wallpaper makes it easier for you to do the work yourself. New poly fabric material has an adhesive that lets you reposition the wallpaper if you happen to make a mistake. If you're new to interior design, traditional wallpaper tears easily and can fold over on itself, making the job more expensive then you may have anticipated, but with the poly fabric material you won't have to ever worry about those things happening which makes it a much better bang for your buck and easier process.
Before implementing any new wallpaper you'll want to remove the old one first. Removing wallpaper can be easy or challenging depending on what type of wallpaper was used the first time. You always have the option to call a professional that can aid you in the removal process. If you choose to remove the wallpaper yourself you will first need to identify what type of wallpaper you have and the type of adhesive that was used to adhere it to the wall. Take a look also at the condition of the wall behind it. You might need to use a spackling compound to patch any dings in the wall before adhering the new wallpaper, otherwise it will not be a smooth even surface and your new wallpaper will have dips in it. If there seems to be a great deal of damage to the drywall or plaster walls, sometimes it's best to leave the old wallpaper where it is and simple put the new wallpaper over it. The choice is yours. With so many design and color options on the market this year, your new wallpaper purchase is sure to be the envy of all your friends. Call us for a free estimate to get you started.