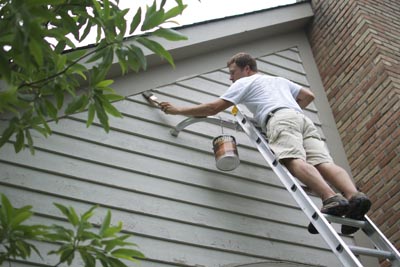 Temporary employment agencies are popular among professional painting companies, including many around Jacksonville. These agencies provide an easy way to stock the company with short-term laborers who may help complete a task, often as quickly as possible. There are many risks associated with using painters from such agencies. For example, a painter from such an agency may not have been properly trained in how to use the specific paint for a certain project, which could lead to a poor paint job. Likewise, a painter may not have learned how to safely move or stabilize ladders, or how to properly operate the tools or machines needed for the job, which could result in injury to the painter or damage to the property. A painter who is provided from an agency for a single day or a single job may be less reliable and less motivated than a permanent employee who is recognized as part of a team. Temporary employment agencies and their day laborers may be a good fit for painting companies whose main concern is a bottom line, but at The Painting Craftsmen, we do business in a different way.
The Artisan Approach
At The Painting Craftsmen, we are exactly as our name suggests – we are professional painters with craftsman-level expertise, and highest level of skill in the field. We use only the highest quality materials and paint, and employ only the most skilled artisans as our technicians. We believe that a good painter needs extensive training and proper experience to be proficient at his craft. Each of our painting technicians takes part in our intensive training process, which includes the following facets:
Rigorous training in the proper painting form and techniques, from brushing on fresh coats of exterior paint, to the fine, detailed work of trim painting

Proper instruction in how to use each type of paint and paint-related material, from the sand paper and caulk all the way up to the latex acrylic top coat

Proper instruction likewise in operating tools and machinery for the job, such as paint sprayers

Additional specialty training, including faux finishing and cabinet refinishing

Safety training, in order to operate tools and equipment properly, such as setting up 40-foot ladders and working safely on them
Beyond the professional training we provide, we want our employees to know that they are respected and valued members of the team. We offer an industry leading benefits package and a competitive wage. We provide a friendly and positive work environment, and look for ways for our employees to feel ownership in the company. We believe in fostering a long-term commitment among our employees, and it's working; we are the top professional painting company in Jacksonville, Ponte Vedra Beach, Atlantic Beach, and throughout Northeast Florida.
The Artisan Approach For Your Own Painting Project
At The Painting Craftsmen, we pride ourselves on the level of skill and care with which we complete our jobs. We are Jacksonville, Florida's best painting company, and we take pride in our work by using only the best materials, delivering the best customer service, applying the right skill and technique in our work, and by building the best possible team of painters through a highly selective hiring process followed by extensive training. Our technicians are the best painting craftsmen in the field, and it shows in the finished product of each painting project. We're ready to come give your home's exterior that fresh coat of paint or brighten up your living room or dining room with a new color scheme. Call today for your free estimate, and see for yourself why we are Jacksonville's top painting company!