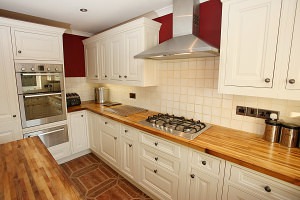 It's April and Florida residents are getting ready to enjoy the summer months, soaking in the sun, tanning by the pool, or relaxing outdoors in the evening with friends.  More and more people are opting to stay home during their summer vacation for convenience and affordability.  Sprucing up the home may be necessary for you to feel like you are on vacation in the comfort of your own home.
Home improvement projects not only make you feel like you are in a brand new home, but add a lot of extra value. The kitchen and bathroom are two rooms where that value goes the farthest. Quality appliances, spaciousness and aesthetic appeal in these two rooms can make all the difference. If you are looking to renovate, there are a few ways where you can save. Before going out to purchase kitchen cabinets or replacing your bathroom cabinets, consider an alternative.  Why replace when you can refinish?
Kitchen Cabinets
The kitchen often represents the heart of the home. This is where families gather after their busy days to talk about their day. New kitchen cabinets have the ability to transform a kitchen. Kitchen cabinets may begin looking faded, discolored, or out of style.  Some cabinets accumulate a white film on them from being exposed to moisture; particular those located around the dishwasher and sink.  Replacing kitchen cabinets can cost thousands of dollars and usually requires major demolition of the entire kitchen that could take several weeks or longer.  New kitchen cabinet installation will require a new counter top, as well, which will increase the projects budget. Refinishing your home's kitchen cabinets is an affordable and wise alternative to replacing them.
The Painting Craftsmen, a locally owned, full service residential painting contractor, has the resources and tools to update your kitchen cabinets for a fraction of replacement costs.  Most of the work is completed outside of the home so homeowner's will not experience huge messes or a complete kitchen demolition.  Cabinet doors are removed and brought to the Craftsmen' shop for their extreme makeover.  Whatever the style or look that is visualized for your kitchen, the artisans at The Painting Craftsmen will attain the results using state-of-the-art equipment.
Bathroom Cabinets
The bathroom is one of the most important rooms in the house, you spend your mornings getting ready here and your evening relaxing in the bathtub. Having a spa like bathroom is not only a luxury, but adds huge value to the home.  However, this comfort level can be achieved without an all out, time consuming renovation. The good news is that same cabinet refinishing options you use in the kitchen can be applied in the bathroom. Other aesthetic touchups like new paint or wallpaper on the walls will complete the transformation. Feel like you are staying in a resort style bathroom from the convenience of your own home this summer!
Cabinet Services
Color and Finish Choices
There are almost unlimited color and finish choices available for cabinets.  Considerations will include the fact that some colors are guaranteed to look great decades later while others may be out of style next year.  Some professionals recommend the following popular colors guaranteed to help your kitchen or bathroom retain its value.
Simple white, off-white, or eggshell colored cabinets are considered one of the best kitchen and bathroom cabinet color choices as they last for years without going out of style and make smaller areas appear brighter and more spacious.  White cabinets are the most popular choice across the country from contemporary or modern homes to cottages.
Many modern homeowners are choosing to be bold with black or mocha colored kitchen or bathroom cabinets.  Darker cabinets tend to anchor the room and allow homeowners to use colorful and creative accessories and accent colors.
Gray cabinets give kitchens and bathroom a high-end designer look similar to that in a penthouse apartment.  Gray cabinets are popular in modern and traditional homes that are aiming for a more conservative look.
2.  Cabinet staining and lacquer finishing
Some Jacksonville residents have expensive hardwood cabinets hanging on their walls but choose to have their cabinets stained a different color.  The professionals at The Painting Craftsmen will remove all paint from the cabinets through a careful process that involves several applications of remover.  Dents and deep scratches are then filled with wood filler followed by a thorough sanding that results in exceptionally smooth cabinet doors with no scratches.  Some homeowners are purists with regard to their wood cabinets and choose one of the copious shades of brown.  Other homeowners are selecting unexpected hues for their cabinet stains to add a custom touch to their kitchen or bathroom while still being able to enjoy the grain and texture of the wood.  Following are some popular stains for cabinets that dramatically impact the look of the space:
Soft green stain gives cabinets a natural, green-washed look
Dark gray stain compliments modern stainless steel appliances
Silvery gray gives cabinets a soft, neutral look that works well with a variety of design styles, colors, and materials
Grayish green is a great neutral stain that compliments earth tones and other colors
Deep red cabinets work well in spaces that do not receive much natural light and have few embellishments
White stained or whitewashed wood cabinets give kitchens and bathrooms a bright and cheerful look and have been around for centuries
Ebony stained cabinets bring depth to a room particularly when combined with lighter countertops and backsplashes
3.  Hardware updating and replacement
For kitchen and bathroom cabinet refinishing, handles, hinges, and pulls are the final cabinet extreme makeover touch.  Hardware updating makes a tremendous impact on the overall look of your space and many different designs are available from old fashioned, modern, traditional, or designer.
Now a stay-cation is sounding more and more appealing, right? Transform the look and feel of your home without the overhaul of a demolition. All work performed by The Painting Craftsmen in Jacksonville is 100% guaranteed for one year.  So, before replacing kitchen or bathroom cabinets, consider a beautiful, affordable alternative. Why replace when you can refinish?