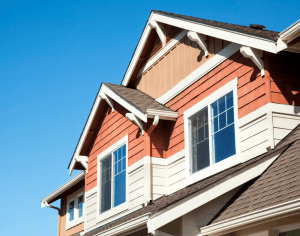 Selecting the right color for painting a room is a big task, and considering the sheen and finish makes the job even bigger. It can be hard to make sense of the painting terminology, so The Painting Craftsmen has compiled a list of the best sheens and finishes to use on each area of your house, for both interior and exterior painting projects. Follow our tips as you plan your painting project, and you'll love the results.
A paint's sheen refers to its reflectivity, and exists on a sort of spectrum with flat finish and very little reflectivity on one end, and high gloss and a lot of reflectivity at the opposite end. Sheen not only affects the way a painted surface looks, but also affects how the paint performs, so you want your painting contractor to apply it where it will look the best and do the most good. Here are tips for deciding which finish to paint where:
Flat finish: This finish reflects no light, and is perfect for hiding surface imperfections and providing an extremely smooth and even texture. Some painting contractors like to apply flat paint best simply because it covers in fewer coats.  The downside to flat paint is that it has a porous texture that is highly susceptible to moisture and stains. Furthermore, if you try to remove a stain by cleaning it, you can augment the texture of the wall. For these reasons, many painting pros recommend you avoid this paint for exterior painting. Flat paint is perfect for ceilings, however, and we also recommend it for many types of interior walls. Note that depending on the manufacturer, this finish may also be called matte.  Other manufacturers may make matte as a stand alone finish that has just slightly more sheen than a flat finish.

Eggshell finish: This finish reflects very little light, and is also great for hiding imperfections on surfaces. There is a slight amount of gloss in this finish, which makes it easier to clean than flat paint. We recommend using eggshell finish on almost any kind of interior wall, as well as on interior doors.

Satin finish: This finish has more gloss than eggshell, and therefore is easier to clean and better at guarding against moisture. For these reasons, we recommend using this finish for interior trim and wainscot, and for walls in bathrooms. This finish is also ideal for the exterior siding of most types of house. Note that certain manufacturers may describe this finish as "low lustre" for exterior paint.  Nowadays, satin is one of the most popular paint sheens among homeowners.

Semi-gloss: This finish is more durable than flat, eggshell, or satin finish, and is significantly glossier. This means that while smooth to the touch, it does not provide as smooth of an appearance, and does not hide imperfections as well, but is better at resisting dirt and moisture and is a highly durable finish. We recommend using semi-gloss paint on shelves, but otherwise avoiding it for interior surfaces. Semi-gloss finish works well on exterior window trim, however, since it guards against moisture. Note that certain manufacturers describe this finish as "soft-gloss" for exterior paint.

High gloss: This finish is rich in resin, meaning it is highly durable, resilient, and easy to clean. It's highly reflective and can highlight any imperfection on a surface. We recommend using it on your front door as well as exterior accent trim and decorative fixtures, but avoiding it altogether for interior surfaces.
Knowing which type of finish looks best on which type of surface is a big part of planning your interior or exterior painting job. Many homeowners enjoy the process of researching and selecting the best sheens and finishes to use on each particular surface, while others prefer to plan paint preferences with their local painting company. For all of your painting needs, including color and finish selection, The Painting Craftsmen is a knowledgeable resource.
The Best Jacksonville FL Painting Contractors
The Painting Craftsmen is Jacksonville's best professional painting company, and the one to trust with your interior or exterior house painting project. Years of experience painting every type of home have given us a genuine eye for color, as well as the industry knowledge to complete any type of painting task beautifully and skillfully. Each of our painters has been specifically trained for the job, and will provide expert craftsmanship from the prep work all the way through to the final coat of paint. If you live in downtown Jacksonville, Atlantic Beach, Ponte Vedra Beach, Avondale, Ortega, or a nearby Northeast Florida neighborhood, we'd like to give you a free in-home estimate and get started on painting your house.