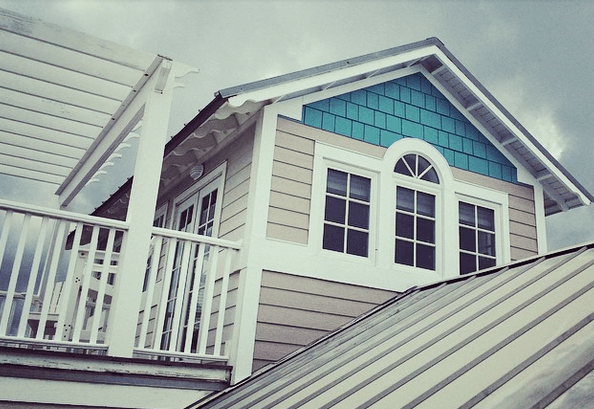 A fresh coat of paint is a great way to protect your home's exterior from harsh weather and keep it sealed from moisture, but beyond that it's a fun way to express yourself with color. Do you want your house to make a statement? There's a bold color palette for that. Would you rather your home blended inconspicuously into the scenery? There's a color palette to perfectly match the surrounding nature. Are you getting ready to put your house on the market? The right color scheme can create a stunning first impression and boost your home's the curb appeal. The colors of your home's exterior set the tone for your entire property, and color selection is a big decision. However, instead of getting overwhelmed by the color selection process, use our tips and let it be fun!
Find The Right Color For Your Home
Paint is available in every color of the spectrum. However, randomly picking 2-4 of your favorite colors will not automatically result in an optimal color scheme for your house. Do some research, take note of your home's surroundings, and play with your color options. Here's how:
Step 1: Setting
Take a walk around the neighborhood to get an idea of the colors used in the area. Make an effort to match your own paint color scheme to the neighborhood. While you don't want to use the same exact colors, or even the same color scheme as your next-door neighbors, you also don't want to choose colors that will clash with their houses. Create variance, but in a way that thoughtfully matches the feel of the street, block, or community.

Take note of the surrounding nature. Do you have landscaping that includes flowering shrubs or fruit trees? Choose colors that will be enhanced by your yard and landscaping. Is your house deeply shaded by large oak trees? Or do you have an oceanfront home with nothing but sand and sun for miles? Consider how sunlight and shade affect the exterior of your house and choose your colors accordingly.
Step 2: Structure
Consider the unchangeable elements of your home, including roof shingles, brick accents, a stone chimney, or a cinder block foundation. Find a color that will go well with the elements of your house that you can't change. This can be easier than it sounds! For example, charcoal gray roof tiles may still have flecks of green, gold, or brown that you can identify and use as an exterior paint color.

Investigate the history of your home. Owners of historic homes love to research historically accurate color schemes to apply to their homes. The famous "Painted Ladies" of the Victorian era often incorporated 5 or 6 colors into a scheme, whereas Colonial era homes seldom used more than 2 colors. The owners of Craftsman-style bungalows often want to bring in earth tones, while the owners of beach houses go for brighter and lighter tones. Delve into your home's history and find inspiration!
Step 3: Color
Collect paint swatches and color cards from your local paint store. While you're there, don't be afraid to ask the experts for their input! Many paint supply stores and hardware stores have color consultants on hand, so take advantage of their expertise.

Reference color scheme materials. Almost all paint manufacturers have compiled hundreds of complete color schemes to take the guesswork out of the process. Color schemes will even be given names such as "Beaches Palette" or "Williamsburg Palette" to hint at the influences behind their design.

Try several paint colors on the house itself. Buy a quart of each of the colors you are considering, and for fun get samples of a few extra colors. Apply the paint to an area of your house and examine the colors for several days. Look at the colors in the morning light versus evening light, and in the bright sun as well as the shade. Get to know each color over the course of a week or so before deciding on the right one for your house.
Finding the right colors for your home is exciting! It's fun to imagine what your home will look like in a bold, new palette, or even in a fresh coat of a similar color. If the prospect of selecting the perfect paint seems too daunting, however, ask your local professional painting company for advice. A great house painter is not just a technician, but also an artist, and will have the industry knowledge and experience to guide you in your color selection.
The Best Jacksonville FL Exterior Painting Contractors
Ready to paint your home's exterior? The Painting Craftsmen is the best professional painting company in Jacksonville FL, specializing in both interior painting and exterior painting. Our painting contractors are skilled masters who will transform your home's exterior using extraordinary skill, expert training, and an eye for detail. We offer color consultation as well, so if you are at a standstill and can't decide on the right color for your house, call on us! Beautiful oceanfront homes along Atlantic Beach, Jacksonville Beach, and Ponte Vedra Beach, as well as countless historic homes in Riverside Avondale, San Marco, and downtown Jacksonville have been revitalized by our painting craftsmen. We're the best professional painting contractors in town, and the right choice for your home.