Epoxy flooring is a creative way to coat your floors and make a safe, durable, appealing work space.  Epoxy floors are growing in popularity, and it's easy to see why:  There are many benefits to installing epoxy flooring in your home, and really only one con.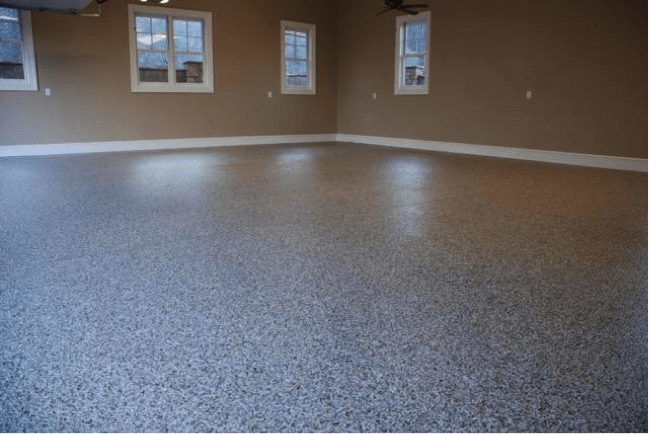 Here's what you need to know:
Easy to keep clean

– Perhaps the best feature of epoxy flooring is how easy it is to maintain.  Epoxy floors are renown for being easy to clean.  Sweep up debris effortlessly and quickly, and mop or wipe it down with a cloth to get rid of any spills.  It doesn't get much easier than that!  Epoxy floors are most popular in garages, and even oil and automotive fluids are no problem to clean up quickly and completely.

Extremely durable

– Epoxy flooring is also known for its durability, and will protect your floors from all types of impact.  You can drive on it, park on it, store heavy equipment on it, or lay out your tools and work on a major project, causing no damage to the floor.  It takes a pretty sharp or heavy projectile to damage this sturdy and long-lasting material.

Extremely safe

– Epoxy is a very safe coating for your hard floors.  It's slip resistant, shock resistant, and less abrasive than concrete and other types of industrial flooring.  It's also water resistant, and will protect your floor from any spills, including harsh chemicals that would harm other types of floor.  It can also withstand heat of up to 200 degrees, making it a better choice than most other types of flooring when it comes to fire resistance.

Polished, clean look

– Epoxy floors are virtually seamless, creating a smooth and uniform look.  Beyond that, the glossy finish makes a professional and clean appearance.  It can turn a garage or warehouse into a showroom, and can turn any type of space into an extension of your home.  Some homeowners even choose to have epoxy flooring in their mudrooms, kitchens, bathrooms, or really anywhere.  The finish creates a modern look, and the other benefits are still there.

Colorful

– As a bonus, epoxy is available in a wide array of colors or color combinations.  Use a solid gray or beige to further enforce the uniform look, or choose the an exciting color combination or the colors of your favorite sports team to make the space your own.
The one downside to epoxy flooring is that it is difficult to install.  It makes a very messy, very time-consuming, and very complicated DIY project, and even seasoned DIY veterans often skip this as a personal project and simply hire a great epoxy floor company to install it.  Though do-it-yourself kits are available at most hardware stores, they often include low quality materials that do not yield satisfying results.  Epoxy floor installation requires a lot of prep work.  The ground must be completely free of all solvents, grease, oil, and other debris before the epoxy paint can be applied.  In many cases, you would need to invest in specialized cleaning materials and equipment.  You will also need to rent a grinding machine and grind down the concrete in order for the epoxy to properly adhere and create a smooth surface.  There are many fun and satisfying DIY projects out there, but epoxy floor installation is not one of them.
Even this single epoxy floor issue has a remedy – find a good painting company or epoxy floor installation company to do the work for you!
The Painting Craftsman is more than just the best house painting service in Jacksonville FL… we're also the best epoxy floor installers, and we would love to coat your garage, studio, storage space, or another area of your house in a high quality epoxy covering.  We use a state-of-the-art, commercial-grade formula, and the best installation methods to ensure your epoxy floors look great and last.  We do intensive prep work, including thoroughly cleaning the surface and prepping it by grinding and etching so that the epoxy bonds perfectly and smoothly.  We install layer upon layer of tinted epoxy base coat, and colored texture pieces and chips, followed by a glossy finish coating, ensuring the floor is solid and long lasting.  It only takes a day or two, and then the floor dries and cures for another day or two, and it' ready to use.  See why Northeast Florida homeowners call on us for interior and exterior painting projects, cabinet refinishing, epoxy floor installation, and any other service they need to keep their homes protected and looking great!