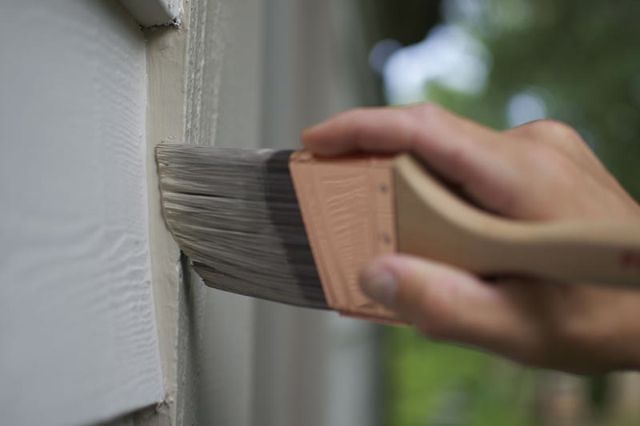 The exterior of your house needs a new coat of paint every so often to protect it from the elements. Direct sunlight, driving rain, and our warm and wet climate all greatly affect the siding and trim of your house. Having your house painted regularly is the best way to protect it and extend its life. At the same time, neglecting this project can cause expensive and irreparable damage to your home's exterior. The best thing to do for your house is to begin planning a full exterior painting project now!
Steps To Take When Planning Your Paint Job
Having the exterior of your house painted is a major project that requires planning. The best house painting companies often get booked far in advance, so it is best to call and get on their list before the warm weather even arrives. The following pointers will help you get started planning your home's exterior painting project.
Step 1: Select the best house painter.
Finding the right house painting company is the most important part of planning your project. You need a house painting service that will give you outstanding quality and a paint job that will effectively protect your home and make it look great for years to come. The best house painting companies are committed to quality and have given their technicians extensive training in the right skills and techniques for the job. The painting service you choose should have deep industry knowledge of paints, stains, and materials, as well as the tools and technology needed for each type of job. It's also very important that your house painters are bonded and insured and that they guarantee their work.
Step 2: Select the right color scheme.
You may have been daydreaming about a brand new look for your home and have the colors picked out and the paint swatches in hand. On the other hand, perhaps you just want a fresh coat of the existing color. There's also a chance you feel lost when it comes to picking out a color scheme for your home, and overwhelmed by your choices. After all, there are endless tones and shades available for every color, as well as countless pairings and combinations. Owners of historic homes often like to know era-specific colors so that their home can be historically accurate. Many homeowners also like to consider colors that will look good in their neighborhood or with their chosen landscape. A craftsman house painter will guide you through the process of color selection and help you find the perfect color for your own home.
Step 3: Select the right type of paint.
Beyond helping you navigate paint colors, the best house painters will know the right type of paint for the job. Latex paint has completely replaced lead paint, but there are still many features of latex paint to consider. Your house painting technician will know which formula will be most effective in protecting your house from sun, wind, and rain, resisting fade, and repelling moisture, all while maintaining a beautiful appearance.
Your Local Exterior House Painting Experts
The Painting Craftsmen is the best house painting company in Northeast Florida, serving Ponte Vedra Beach, Atlantic Beach, Ortega, Riverside Avondale, downtown Jacksonville, and more. We bring an unprecedented level of quality to exterior house painting, making sure each painting project looks great and will last for many years. Our technicians are thoroughly trained and given years of experience, and we use only the best paint and materials available. Our commitment to quality is reflected in our growing number of devoted customers and clients. There are many Jacksonville, FL exterior house painting companies, but trust your home to the best in the industry.