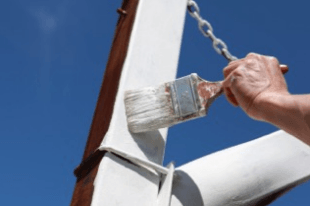 Painting projects take a lot of work, and the idea of simplifying the process by using two materials in one is very tempting. This is where 2­-in­-1 paint and primer combination comes in. Nearly all paint manufacturers have come out with their versions of this combination, but to mixed reviews. So, how do you know if it's right for you to use a paint primer combination on your own home?
Understanding Paint And Primer
To begin, it's important to understand the difference between primer and paint. Primer is a specially­ formulated application meant to adhere to the substrate and create a smooth and uniform surface that is ready to be coated with paint. The substrate may be anything, including metal or raw wood, or a surface that has already been painted, whether the paint is fresh or beginning to peel. The substrate may also have issues with rust, mildew, or any number of other issues, and the primer may be formulated to alleviate any such problem. In short, the primer prepares the surface so that the paint will look and perform as well as possible.
Paint, of course, is the topcoat that you've selected in the perfect color for your home. The higher the quality of the paint, the richer its pigment, and the better it will look and perform. When the proper prep work has been done, and a good quality primer has been applied, a high quality paint will make the job complete, and will look great and last for a long time.
Paint and primer are unique, and they are formulated to do entirely different things. If you were to try to create your own paint and primer combination, you could not simply pour a can of primer and a can of paint into a bucket and begin applying the mixture with good results. Chemically, this is just not possible. Paint manufacturers, therefore, formulate their own 2­in­1 paint primer combinations, which usually consist of a thicker than usual coating, designed to cover the substrate in a single coat.
When should I use 2­-in-­1 paint primer?
● Similar paint types ­- If you are painting a surface that has already been painted, you can use a paint primer combination product and expect good results. There are several caveats to this situation. First, the existing paint must be in good shape. It can't be chipped or peeling, and there certainly cannot be any issues such as rust or mildew present. Second, the existing paint must be the same type as your 2­-in-­1 product. For example, if the existing paint is latex­ based, and the paint primer combination is latex based, then the product should work. You cannot, however, coat oil ­based paint with a latex­ based product.
When should I use traditional primer and paint?
● Dissimilar paint types -­ If you are covering a previously painted surface, and will be using the opposite type of paint, you'll need to use traditional paint and primer. Using the example above, if you are covering latex paint will oil­ based paint, only a high quality primer formulated for oil­ based paint, followed by oil­ based paint will do. Dissimilar paint may also refer to color. If your walls are white, but you'd like to paint them a deep shade of blue, only traditional primer and traditional paint ­ and perhaps several coats of each ­ will give you the results you want.
● Raw substrate ­- If you are painting bare metal, raw wood, concrete, or any other substrate that has never been painted, you will need to stick to the traditional painting process and avoid 2­-in-­1 combination products. Only a
true, high quality primer will prepare such a substrate to accept and hold paint.
● Substrate with surface issues -­ If your substrate suffers from mold, mildew, rust, or any other problem, a 2­-in­-1 paint primer will not be able to properly coat it. You'll need to find a high quality primer that is specially formulated to protect against the issue. Then, after properly ridding the substrate of the buildup, apply your primer, using more than one coat, if necessary, followed by the topcoat.
● Cost matters -­ If you are painting your home on a budget, you will most likely want to avoid using combination products. Contrary to what we want to believe, investing in high quality primer, and especially in high quality paint will save money in the long run. With quality products, you will apply fewer coats, and they will provide a finish that lasts longer and performs better.
● Quality and appearance matter ­- The traditional method of prep work, high quality primer, and high quality topcoat will always provide the most beautiful results.
After all the steps that go into proper prep work, it does sound nice to simplify the subsequent steps by using a paint primer combination. However, for the best results, stick to the traditional process of painting ­ including all prep work, 1-­2 coats of high quality primer, and then 1­-2 coats of the highest quality paint. Beautiful and long lasting paint jobs not only require the right materials, but also the right process!
The Best Jacksonville FL House Painters
At The Painting Craftsmen, we believe that painting is a process and an art form. We believe that in order to give our clients the best possible paint job, we need to complete each step of prep work, primer application, and topcoat application, using the eye of an artist, and the steady hand of a skilled technician with years of experience. We pride ourselves in offering only the highest quality coatings and products, and using the best equipment in the industry to paint your home. We specialize in providing durable coatings, in a high quality luxury finish that your neighbors will envy.
Homes throughout Jacksonville Beach, Ponte Vedra Beach, Sawgrass, Ortega, Mandarin, and beyond are looking beautiful, thanks to our award­ winning teams of expert painters. Let us do the same for your home!