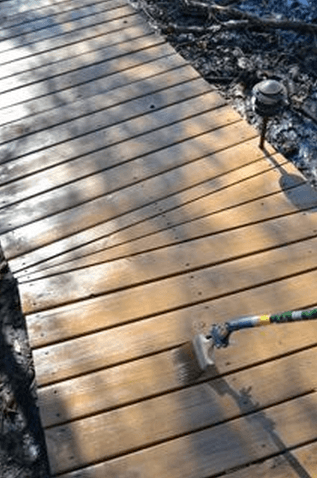 Your deck is exposed to extreme elements all year long. Intense sunlight and UV rays, especially here in Jacksonville, Florida, fade wood and break down the lignin, or natural substance that holds together wood fibers. Humidity and heavy rains overwhelm wood with moisture, causing it to warp and crack as it then expands and contracts with changing temperatures. Wood that is unprotected or neglected is highly susceptible to these dangers, and will turn gray and eventually rot. The solution is to protect the wood with paint or stain, but which is better for your own deck?
Deck Staining Pros & Cons
A good quality stain will soak into the wood and fill the microscopic gaps that would otherwise become filled with moisture from rain or humidity. The stain will penetrate the wood grain and seal it, making a barrier against moisture. If the stain is tinted, it will shield the wood from UV rays, and the more pigment a stain has, the more protection it will provide. Stain also does not chip or peel, so though it will fade as time goes by, your deck won't become riddled with pesky peeling paint. The downside to staining your deck is that the choice of stains can be overwhelming, so here's a brief primer on the major types of stain:
Clear Toner: Clear toner contains almost no pigment, so the color and grain of the wood will show through the toner. It does not provide as much UV protection as stains with deeper pigmentation, but it does still protect against moisture, and does not peel. We recommend recoating clear toner every year.

Semi-Transparent Stain: Semi-transparent stain contains enough pigment to change the color of the wood, but will not cover or hide the wood grain. It protects against UV and moisture and does not peel. We recommend recoating semi-transparent stain every 2-3 years, but this can vary significantly depending on factors such as surrounding conditions and use.

Semi-Solid Stain: Semi-solid stain contains more pigment than semi-transparent stain but less pigment than solid color stain, so it effectively blocks sunlight and UV rays. It partially covers the wood grain, but will not peel. We recommend recoating semi-solid stain every 2-4 years, but this can vary significantly depending on factors such as surrounding conditions and use.

Solid Color Stain: Solid color stain looks like flat paint. It covers wood grain but does not hide the texture, and provides a strong shield against UV rays. It forms a light film, and may peel if not properly applied. We recommend recoating solid color stain every 5-7 years, but this can vary significantly depending on factors such as surrounding conditions and use.
Deck Painting Pros & Cons
The high solids content in paint helps to form a thick, opaque film on the wood's surface that shields it from UV rays, resists moisture, and hides imperfections. If you choose to paint your deck, we recommend a high quality water-based latex porch and floor paint, which will do a better job than oil-based paint in flexing with the wood as it expands and contracts with the elements. The downside to painting is that it will eventually begin to peel. Even the best paint jobs will not last too long in the intense Florida climate of high heat and humidity and heavy rainfall.
Deck Refinishing DIY
Staining or painting your deck might sound like an appealing DIY project. However, for many homeowners it ends up being a vastly larger project than they had in mind. The first stage is to pressure wash the surface. You'll need to clear away all patio furniture and potted plants, and rent a good quality pressure washer. Rented pressure washing equipment is costly and can be dangerous, but it's necessary for cleaning all mildew, loose or rotten wood fibers, and peeling paint or leftover sealant from the surface so that the new paint or stain can penetrate and adhere properly. The surface also needs to be completely dry, so wait 2-3 days after pressure washing, or longer if it rains. While the surface is drying, check for rotten boards that need to be replaced with new lumber, or loose boards that need to be secured. Collect and purchase the supplies you need, including brushes, rollers, tarps, and the paint or stain itself, and you're ready to go to work!
Refinishing your own deck seems like a weekend-long project, but more more often than not it takes much more of your time and money than planned. In the North Florida summer heat and blazing sun, this task can grow exponentially worse, fast. The best thing you can do is find a good deck refinishing company in your area and hire a team of experts!
The Jacksonville FL Deck Refinishing Experts
Your deck is one of your favorite features of the house, especially now that summer is here. If it needs a fresh coat of stain or paint, The Painting Craftsmen has the team of experts for the job! If it needs more than a coat of stain, we'd love to help with that, too. We specialize in getting your deck ready for you to enjoy, so if you have rotten boards that need to be replaced, or if the surfaces need intense pressure washing and sanding, we are the professional deck refinishers for you. When our team is finished, you'll never want to leave the deck! If you live in Riverside Avondale, Ortega, Ponte Vedra, along the beaches, or anywhere else in Northeast Florida, call on the best deck refinishing company in town. We're ready to start refinishing your deck so that you can enjoy summer to the fullest.