Metal surfaces are a common part of many interior and exterior painting projects. Outdoor metal fixtures, aluminum gutters, copper pipes, galvanized steel siding, wrought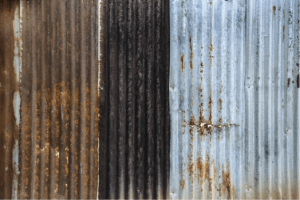 iron gates, window frames, boilers, and more, are all commonly found in households, and all require a fresh coat of paint from time to time. When you need to paint metal, adequate surface preparation will make all the difference in the quality of your paint job and in how long it lasts. In fact, without the proper preparation, even the highest quality paints and custom metal coatings will not last, and your hard work will be in vain. Our checklist will help make sure your painting project is successful, with long lasting results!
Step 1: Clean the surface.

Every type of surface should be cleaned before being painted, and metal surfaces are no exception. In exterior painting projects, metal surfaces are exposed to the elements, and likely in need of a thorough cleaning. It's often best and most efficient to pressure wash these surfaces, giving special attention to areas of mildew, mold, or excessive grime buildup. Indoor metal surfaces may also require attention, but in many cases, can just be wiped clean with a cloth, or damp rag. If there is grime buildup, grease, or oils present, make a mixture of warm water and mild dish detergent and lightly scrub the affected area.
Step 2: Sand and scrape the surface.

Sanding and scraping the metal surface will make it smooth, uniform, and easier to paint. Any buildup or residue that was not removed during cleaning should be sanded away. Rust, likewise, needs to be sanded off of the surface. Begin by lightly sanding, and work your way to more intense measures. Scraping will remove excessive residue and rust, as well as any loose or peeling paint from the previous paint job. Avoid using power tools for this stage, since they can actually polish the surface, leading to problems with adhesion when it comes time to paint. If you must use a power tool to sand or scrape, be prepared to give the area an extra coat or two of primer before painting.
Step 3: Make repairs to the surface.

Small holes, dents, and gashes can all befall your metal surface. You'll likely discover these damages during cleaning, sanding, or scraping. Most dents can be filled using an epoxy-based composite or epoxy filler. Larger holes and gashes will require heavier duty epoxy filler, possibly along with a mesh liner. After applying any epoxy or filler, sand the edges of the repair after they have dried so that the subsequent coatings will be smooth.
Step 4: Prime the surface.

The last step before applying paint is to apply the proper primer to the metal. Consider the substrate itself, and how you want the final topcoat to look and feel. Also consider the environment your metal surface is in, and what elements it may be exposed to. All bare metal will need to be primed with at least one coat, and the better you can specify the type of primer you need, the better results you'll have in a finished product.
For example:
If your surface will be exposed to moisture, avoid using latex or water-based primers. Moisture will easily soak through these primers and your paint job will need to be redone within a matter of weeks or months.
If your surface is susceptible to rust, use a rust-inhibitive primer or rust converter or rust reformer.
Even if you have not had issues with rust, if your surface is made of ferrous metal (metal that contains iron), we still recommend using rust-inhibitive primers or rust converters for metal surfaces that are exposed to the elements, as a way to safeguard against rust.
For non-ferrous metals, and for surfaces that are not exposed to the elements, we recommend a galvanized metal primer, which will enable the paint coatings to better adhere to metal surfaces.
The Painting Craftsman Way
Metal surfaces can be tricky to paint, even when you take the necessary precautions and do the right prep work. If you'd rather not embark on a DIY project like this, find a good professional painting service and let a specialized team take care of your painting project! There are many good house painting companies in Jacksonville, but The Painting Craftsmen is the company to choose for the luxury coatings and paint job your home deserves. Our exterior and interior house painting teams specialize in preparing your metal surface for painting, and then applying smooth and even top coats, giving all surfaces the look and feel of true craftsmanship.