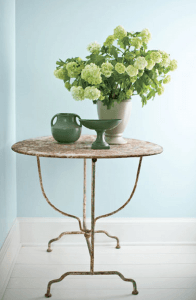 Color and style forecasters predict upcoming runway fashions, new trends in the auto industry, popular designs for furniture and home décor, and just about anything else that consumers are interested in. Likewise, color consultants and design specialists have the expertise to predict the tones, shades, sheens, and combinations of colors that will be popular for the walls in your own home! Whether you prefer timeless palettes or the latest styles, knowing the current painting trends can give you the inspiration you need to plan your next interior painting project.
Trends And Color Schemes For This Year And Beyond
Recent trends steer away from high gloss finishes in favor of low sheens, with a few exceptions. Though the choice is ultimately yours, here are the the popular finishes and sheens for different interior surfaces:
Interior walls: Flat, matte, eggshell, satin, or low lustre
Interior trim: Semi-gloss or satin
Wainscot: Semi-gloss or satin
Shelves: Semi-gloss or satin
Front door: High gloss
Interior doors: Satin
Ceiling: Flat
Three major palettes or color schemes have come forth in 2014, and they are predicted to carry into the coming year and beyond.
1. The Seashore
According to several reputable color consultants, the ocean, beach, and seashore continue to be a source of inspiration for color schemes for the home. The variety of colors, shades, and hues, as well as the combinations of colors provided by nature make the seashore a neverending resource. In past years, turquoise, teals, and blues were the popular choices for this palette, with current trends for 2014-15 having a fresher, lighter feel.
Popular color schemes include: driftwood, seaspray, mist, pale gray, mineral gray
Farrow & Ball's shades of "Parma Gray," "Lulworth Blue," and "Stiffkey Blue" perfectly reflect a seashore color scheme.
2. Making Your Home A Sanctuary
The idea behind this color scheme is that your home should be a peaceful place. We lead stressful, busy, technology-filled lives, with ongoing pressure to compete and produce more and more. Your home, therefore, should be an escape, and a place where you can relax and find peace.
Color schemes include: pale blues and greens, beige, pale gray
Benjamin Moore selected their tone, "Breath Of Fresh Air 806," as the color of the year. It is a tranquil shade of pale blue that would suit any room in the house. Likewise, their shades of "Palladian Blue," "Mr. Rainier Gray," "Castleton Mist," and "Normandy" would surely turn your home into the sanctuary you may need.
3. Making Your Home Cozy
Your home is a gathering place for your family, as well as for guests and company, and you want it to feel warm and inviting. With the holidays approaching, this color scheme is especially befitting of a welcoming home.
Color schemes include: warm brown, beige, reddish brown, cream
Benjamin Moore again captures this trend with their shades of "Nightingale," "Raleigh Sorrel," and "Elemental."
Jacksonville's Best Painting Company & Color Specialists
At The Painting Craftsmen, we pride ourselves not only in our artisan technique, but also in our artistic eye for color. Years of experience have given us the ability to understand the qualities of paint, including sheen, gloss, lustre, and which type of paint looks best on which type of surface. Beyond that, we know color. With our free in-home estimate, we offer color consultation if you are having trouble deciding the right color for the room. We know what shades and hues will look good on every type of wall, and we make it a point to stay up to date with new palettes and color schemes, as well as the offerings of major paint suppliers each season. We are Jacksonville, Florida's best painting company, with highly-trained technicians ready to get started on your interior painting project. What better place to incorporate the newest seaside color scheme than your Ponte Vedra Beach house, or your new home along Fernandina Beach! We have painted homes throughout downtown Jacksonville, Ortega, San Marco, and historic Riverside Avondale. Now, let us bring the season's palette to the walls of your own home!