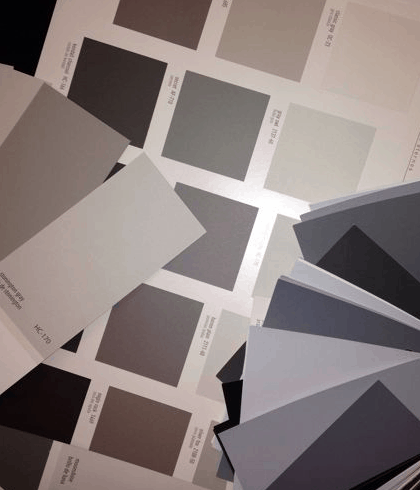 Gray is one of the most versatile colors on the spectrum. Color enthusiasts love to play with the vast array of gray shades to create the perfect pairing or palette for a room. Many homeowners choose to incorporate gray because of the modern or contemporary feel it creates. Still others are drawn to gray tones because of the calming effect they can give. Whatever your reason for choosing gray, we have tips for finding the perfect hue for you.
Warm Gray
A warm gray tone adds depth to any room. Paint the master bedroom a warm gray to give it a cozy feel, or use warm gray in the living room to invite guests to feel at home.
Our favorites shades of warm gray:
Cathedral Gray CSP-205 (Benjamin Moore)

French Gray No. 18 (Farrow & Ball)

Mindful Gray SW-7016 (Sherwin-Williams)

Revere Pewter HC-172 (Benjamin Moore)

Sedate Gray SW-6169 (Sherwin-Williams)
Other tips for using warm gray:
After painting your room a warm gray, paint the doors a significantly deeper shade of the same warm tone for a striking effect.

Warm gray almost always looks great with natural wood furniture or natural wood accents.

When selecting a trim color, creamy whites often look better than true whites when next to warm gray tones.
Cool Gray
A cool gray tone creates a peaceful place. Use cool gray in your master bathroom for a spa-inspired feel, or add a cool gray tone to your in-home office to make it feel calm and serene.
Our favorite shades of cool gray:
Gray Horse 2140-50 (Benjamin Moore)

Gauntlet Gray SW 7019 (Sherwin-Williams)

Lamp Room Gray No. 88 (Farrow & Ball)

Silverplate SW 7649 (Sherwin-Williams)

Winter Solstice 1605 (Benjamin Moore)
Other tips for using cool gray:
If your room has stone or slate features, a cool gray will complement them. For a perfect complement, choose your paint based on a tone that is found in the stone or slate itself.

Choose a bright white for your trim color to create the best pairing with a cool gray tone.
Dark and Deep Gray
Dark grays and charcoal tones look great with crisp, white trim, or a bright accent color.
Our favorite deep and dark grays:
Chelsea Gray HC-168 (Benjamin Moore)
Dolphin AF-715 (Benjamin Moore)

Down Pipe No. 26 (Farrow & Ball)

Peppercorn SW 7674 (Sherwin-Williams)

Sparrow AF-720 (Benjamin Moore)
Other tips for using dark and deep grays:
Remember that darker colors can make a space feel smaller, so be careful when choosing the darkest or deepest grays. Think about using one of these tones on a single wall of a room, or in a room that has many windows.
Don't worry if you are feeling overwhelmed with your choices. After all, there are infinite shades of gray in the gray scale! The good news is that there is help if you want it. When you visit the paint store, check out the color schemes that are provided by the paint manufacturers. Paint manufacturers are skilled at grouping colors to create optimal combinations, so find a gray tone you love and look at the colors that are paired with it. Better still, get face-to-face advice from the local painting pros. The best professional painting companies have technicians with the expertise to guide you in your color selection. Find the best Jacksonville FL house painters and take the worry out of the whole process, from the initial color selection all the way up to the final touches on the finished product.
The Best Jacksonville FL Painting Contractors
Thinking of going gray? The Painting Craftsmen is the best Jacksonville FL painting company, and we specialize in interior painting. Our team is made up of highly skilled artisan painters, trained specifically to provide the highest quality paint job and the highest level of customer care. Color is our passion and interior painting is our art, so let us help you find the perfect shade for every room in your house. Our clients in Atlantic Beach, Jacksonville Beach, Ponte Vedra Beach, downtown Jacksonville and the surrounding suburbs agree that for the highest quality work, customer-oriented service, and an overall beautiful paint job, The Painting Craftsmen is the company to call.