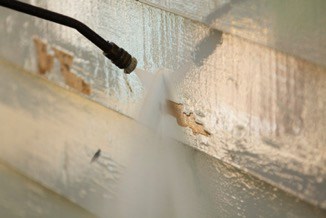 Jacksonville is warm and humid for much of the year, and that's part of why we love where we live!  However, these conditions enable mildew and mold to thrive.  In Northeast Florida, protecting your home from mold and mildew is an ongoing battle, and there is no one-size-fits-all recipe for keeping these problems at bay.  Our tips can help you formulate the best plan for protecting your home!
Pressure Wash Prior to Exterior Painting– Before an exterior painting project, it's almost always recommended that you pressure wash the home's surface first with a chlorine mixture.When mold or mildew is present, this step cannot be skipped.  The mold and mildew must be removed, or else the existing spores will just infect the new paint film and continue growing under it, ultimately causing damage to various structures in your home.  If you paint your home yourself, the pressure washing is up to you.  If you hire a highly rated house painting company, this will be done as part of the painting job, when needed.
Choose the Best Coating – Generally speaking, a fresh coating of paint will protect your home, presuming all necessary prep work has been done first (including chlorine pressure washing, as described above). When the time comes to paint, consider mildewcides and mold inhibitors, but consider other types of coatings as well, and ask the experts, including highly rated painting contractors, and the specialists at the store where you purchase your paint.  Be aware that anti-mold paint should be handled with great care; it's toxic to pets and people.  When applying such coatings, you'll need to wear protective equipment, such as safety glasses and a mask or respirator.
Monitor for Mildew / Mold– Watch for mildew and mold and wash those areas of your home with chlorine when you discover them. Given our climate, mold and mildew can crop up almost anywhere at almost any time, even on a freshly coated house exterior.  Watch especially for areas that are always in the shade, frequently damp, covered by vegetations, etc.
Tackle the Problem at Its Root – Assess the cause of mold and mildew and tackle the problem at the root whenever possible. For instance, mildew may be caused by a water leak on the property that needs to be addressed.  If mildew grows in an area of the house that is covered or shaded by vegetation, consider removing or at least trimming back the vegetation.
Mold and mildew growth are pesky problems that can be tough to completely remove, especially when they're present on porous surfaces such as wood.  Most homeowners choose to avoid the frustration and call on a great professional painting company to take care of everything!
The Painting Craftsmen is the best Jacksonville FL painting company and the professionals to trust with your exterior painting project.  Our Project Coordinator can help you plan your project, and our highly trained technicians will coat your home in the color and sheen of your choice.  The Northeast Florida climate can make home maintenance tricky, but homeowners in Jacksonville, Atlantic Beach, San Marco, Ponte Vedra Beach, Sawgrass, and the Beaches trust The Painting Craftsmen to keep their homes looking great!