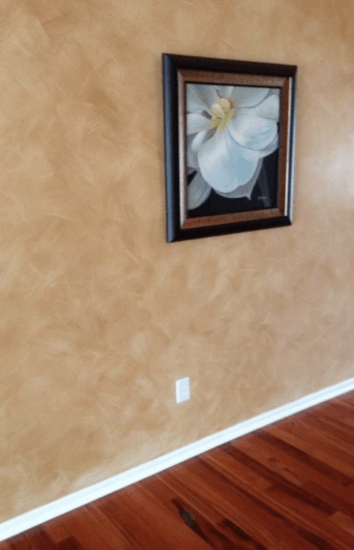 Faux painting and faux finishing are painting techniques that replicate the appearance of other materials. Faux finishes can emulate parchment and ancient fresco, fabric, porcelain, marble, stone, wood, and concrete, among others. The best part about incorporating a faux finish in your home, is that it creates a space that is 100% unique, and is akin to commissioning an artist to hand paint a piece of art just for you. It's easy to see why a high quality faux painting job is so desirable among design-minded homeowners!
A faux finish will enhance any space, and there is a style for every type of home, whether you want to cover the walls of an entire room, or simply create an accent wall or highlight an architectural feature. Here are some of the most popular types of faux finish techniques:
Chalkboard Paint – This trendy finish is perfect for homes with small children. Just as the name implies, chalkboard paint emulates a chalkboard, and kids can draw on the surface without damaging the walls. Many homeowners like to use chalkboard paint on a wall in the playroom, or even incorporate it onto a kitchen wall and use it to write grocery lists.
Color Washing – In color washing, a base color is applied to the wall, and then one or more additional colors are applied over top of the base using a sponge, rag, or brush, creating layers of color and a gently textured appearance.
Distressed Finish – The distressed look is popular on walls and furniture alike, and seeks to create the look of a well-worn, antique surface. The paint is applied evenly, and then removed or sanded down in select areas to create the feel of an old relic or collectible.
Dry Brushing – The dry brushing technique begins with a coat of solid color, then subsequent coats of other colors, applied using a dry brush, in order to enhance the texture and create a softly etched look.
Graduated Painting – In the graduated painting technique, one color is applied on one end of the wall, and a second color on the opposite end of the wall, and they are slowly and meticulously blended in the middle to create a seamless spectrum.
Marbleizing – Marbleizing is a technique that requires high skill levels. Using multiple paint colors, a steady hand, and a keen eye for detail, a skilled painter can transform a plastic, wood, or plaster surface into one that looks like solid marble.
Metallic Painting – Paint metallic paint onto your stove hood to make it look metal, or paint the wooden sides of your kitchen island with metallic paint to give your kitchen an ultra modern look.
Ragging – As the name indicates, paint is applied to the wall using a crumpled rag, in order to create a complex yet uniform texture and look.
Striping – A skilled painter can use painter's tape, precise measurements, and an artist's eye to stripe a wall. Stripes give the room a sophisticated and classic style, and can even create the feel of wallpaper. Of course, stripes can be as thick or thin as you want, and in any color combination imaginable.
Strié – This technique is created by applying a solid color base coat to the wall, followed by a thicker coat of glaze in a different color. Once the glaze has been applied, a thick, dry brush is dragged lightly over the thickening glaze to create strong texture and soft streaks of color.
In nearly any type of faux finish method, though the finished product is breathtaking, the process is complex, and truly requires sharp skills. When a faux finish DIY project goes wrong, the results are excruciatingly bad. Fortunately, the best painting companies have highly skilled technicians who are extensively trained and able to create beautiful and natural finishes, using the right techniques and methods.

The Best Jacksonville FL Painting Company
Dreaming about a faux finish on your own walls? The Painting Craftsmen is the best painting contractor Jacksonville FL homeowners love and trust. Our clients in historic Riverside Avondale, Ortega, Orange Park, Jacksonville, and along the beaches love to incorporate faux finishing into their homes, and know that our painters will create masterpieces for them. Our faux finish team specializes in creating unique and high quality designs, customized to fit your vision and your home. When it comes to faux finish painting, The Painting Craftsmen is the best painting service and the one for the job!