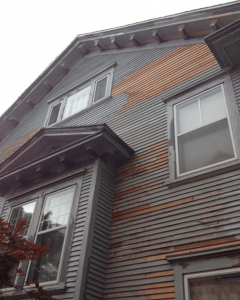 Painting the exterior of your house is a big project, and there are many steps to follow to ensure you give your home a high quality paint job. Prep work is no exception, but the good news is that proper preparation will pay off. Follow these tips and your home will be easier to paint, the job will go more quickly, and the finished product will look great.
Step 1: Clear the area
Remove everything you can from the area to be painted. This includes shutters, light fixtures, your house number, your mailbox, and anything else that can be easily removed. By simplifying the surface, you'll be able to complete the job in less time.
Step 2: Clean the surface
The surface needs to be completely clean in order for paint to adhere as it is applied. Dirt and grime, mildew, mold, cobwebs, chalk, salt and sand, and other types of debris build up and need to be washed and rinsed away before the the first coat of primer can go on. Proper cleaning can be done using one of two methods:
Wash the exterior surfaces by hand, using commercial cleaner or household detergent and warm water. Vigorously scrub the entire surface with a rag or a sponge, beginning with the highest peaks of your house and working your way down. Thoroughly rinse the area so that all residue and soap is removed.

Hire a professional pressure washing company to do the washing for you. Homeowners and professional painters alike prefer to hire professional pressure washing services to complete this step in painting prep work. Pressure washers have the equipment and cleaning solutions to thoroughly and efficiently get your house totally clean so that it's ready to be painted.
Step 3: Make sure the surface is smooth
Paint will collect in any cracks and dents on your siding, and will flake off if painted over dried or peeling paint. All in all, you want to make your surface as smooth as you can so that the paint can cover evenly and thoroughly.
Scrape off old and loose paint with a paint scraper. If you live in a historic home, find out if lead based paint was used on your house, and research the correct ways to remove, collect, and dispose of lead paint flecks.

Make any necessary repairs, including replacing rotten siding with new panels, repairing damaged stucco, and replacing cedar shingles or window trim where needed.

Remove all old nails, staples, and foreign debris.

Fill in cracks, nicks, and imperfections with putty and fill gaps with caulk. Where needed, peel off old sealant and recaulk.

Sand over all remaining imperfections, using a sanding block, a power sander, or both.

Spot prime problem areas such as glossy spots and any areas you repaired, replaced, or sanded. Spot priming will ensure that the first full coat of primer goes on evenly.
Step 4: Protect the surrounding environment
Put fabric drop cloths under the surfaces you will be painting in order to protect the areas from paint spatter. Fabric drop cloths work best, and indeed should be the only type of drop cloth placed over flowers, shrubs, or other plants, since plastic drop cloths can intensify the sun's effect on them.

Tape off windows, trim, and all remaining fixtures using painter's tape or masking tape. This will not only protect these areas from paint, but also create a neater and cleaner end result.
You are now ready to begin painting! Find the best primer and a high quality latex paint, and your house will be looking great in no time. With all the right preparation work, you will surely be rewarded with a painting project that goes smoothly and looks good. Some homeowners enjoy a large DIY project such as exterior house painting. Many homeowners, however, prefer to trust the task to a professional exterior house painter, so if you feel yourself becoming overwhelmed with the project, find the best painting service and give them a call.
Exterior Painting Companies Jacksonville FL
The Painting Craftsmen is the best exterior painting company in north Florida, and we know that a quality paint job begins with quality prep work. Proper preparation is key to any good paint job, but it is absolutely essential for exterior painting companies in Jacksonville, FL. Harsh heat, high humidity, and the intense Florida sun all come together to wreak havoc on your home. Exterior house painting is our specialty, so whether you live in a cedar shake home in Riverside Avondale, a stucco home in San Marco, or a wood paneled beach house in Ponte Vedra, Fernandina Beach, or Old St. Augustine, we are the best painting company for the job. Get your free estimate, then relax and we'll take care of everything.