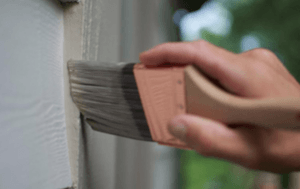 A new coat of paint has the power to transform the look of your home, whether you want to simply freshen up the existing color, or change to a completely new color scheme. Perhaps more importantly, a fresh exterior paint job will help protect your home from the Florida elements, including harsh sunlight, UV rays, rain, and high humidity. The Painting Craftsmen is proud to offer exterior house painting as one of our premier and highly-sought services!
Benefits of a New Coat of Paint
A new coat of paint or stain adds tremendous appeal to your home, and goes a long way in helping you create the home of your dreams. If you've just moved into a new house, a new coat of paint can help you make the home your own. If you are thinking of selling your house, a new coat of paint will boost its curb appeal and can greatly increase the value of the property. Whether you are restoring an older home in Jacksonville's Historic Riverside, or building a brand new home on the beach, a brand new coat of paint is one of the best ways you can protect your investment. A fresh exterior paint job also helps to mitigate the risk of weather-related damage to your house. Northeast Florida gets its fair share of direct sunlight as well as thunderstorms and heavy rain, all of which cause wear and tear to your home. A new coat of paint helps to seal and protect your home from these elements.
Exterior Painting Process
There is a method to exterior house painting, and before the first stroke of paint is applied, the house will need to be properly prepped. Prep work is an important aspect of any paint job, but it is vitally important for a long lasting and durable exterior paint job.
Wash: It is critical to thoroughly clean the entire surface area that is to be painted. Florida climate promotes the growth of mildew, which must be treated and washed away, along with residual dirt and grime.
Scrape and Sand: Old paint that has blistered and peeled should be sanded down or scraped away, and on older homes where lead-based paint may be present, extra care should be taken to protect the surroundings. Plants and landscape need to be properly protected with the right drop cloths, and flecks of scraped paint need to be collected in order to best protect the environment and your home's surroundings.
Caulk: Gaps in the trim around windows and other areas need to be caulked.
Prime: The right primer needs to be applied, which will not only seal the surface, but will provide the best possible surface for the topcoat to adhere to.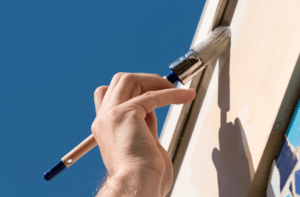 The Best and Highest Quality Exterior House Paint
After the prep work, the house is ready for fresh coats of premium acrylic paint, in any color you may desire. It's important to not only pick a color you enjoy, but to select the right type of paint that will provide the optimal level of protection for you home. Furthermore, paint technology continues to advance, with products continuously being developed to be more durable, fade-resistant, and environmentally responsible. The Painting Craftsmen use only the latest technology and highest quality in exterior house paint, which include all the following features: elastomeric coatings, developed to withstand shrinking and expanding while maintaining its adhesion antimicrobial paint formulated to prevent mildew growth, UV-spectrum protection, fade resistance, and color retention technology, for the best possible color durability.
Jacksonville's Expert Exterior House Painters
Exterior house painting involves long hours in sun, and many of those hours spent atop tall ladders. Even the most devoted DIYers often choose to hire professional painters rather than attempt to paint their homes themselves. At The Painting Craftsmen, we have spent years perfecting the skills needed for exterior house painting, and we offer the highest level of professional painting services in Jacksonville, Ponte Vedra Beach, Atlantic Beach, and throughout Northeast Florida. Our exterior painting service is the perfect solution for your home, whether it's cedar shake or stucco, wood siding or aluminum. We specialize in the complete exterior painting of your house, from the siding and shutters, to the windows, trim detail and gutters. Each of our painters has been specifically trained for the job, and will provide expert craftsmanship from the prep work all the way through to the final coat of paint. We use the best materials available, and this includes the highest quality paint and the right tools for each job. With this level of skill, craftsmanship, and commitment to quality and care, your new paint job will last for many years, even in the blazing sun and daily rain showers of Northeast Florida! Call today for your free estimate, and let our team of professional exterior house painters give your home a fresh coat of paint.