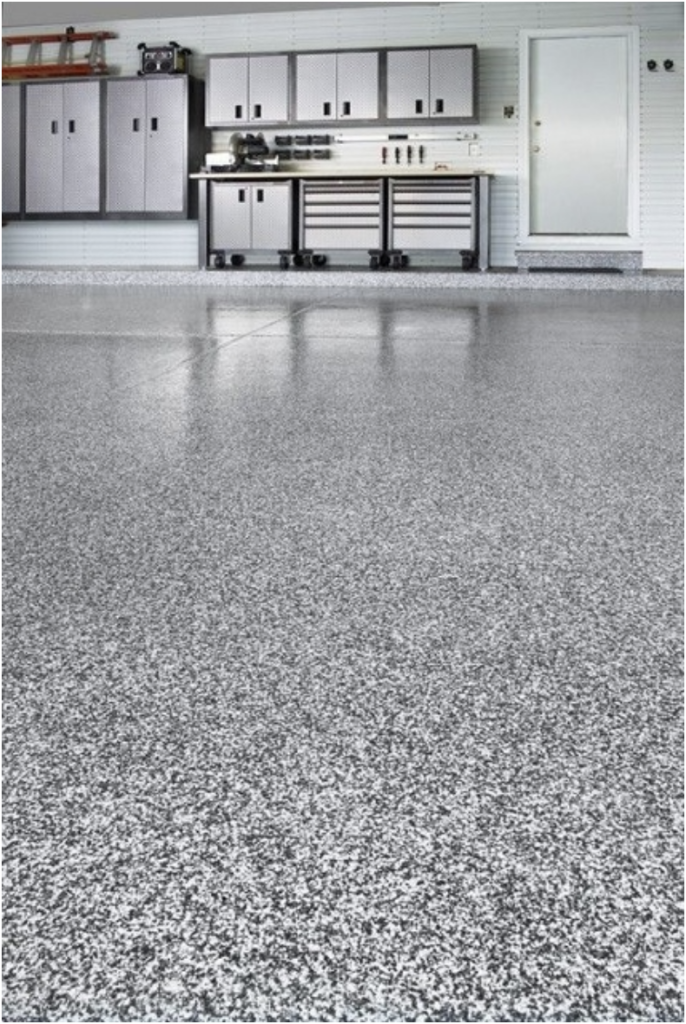 Splurging on luxury items can make us feel guilty, but epoxy garage flooring is truly an exception.  A smooth, clean epoxy finish on your garage floor in the color of your choice may seem like the ultimate luxury for your home, but it's completely justified!  Here's why:
Low Maintenance

– A high quality epoxy coating requires only minimal maintenance.  Once your garage floor is coated in epoxy, it becomes sealed and no longer porous.  This means spills won't absorb and cause problems for you later, and leaked oil or spilled chemicals won't require specialized cleaning solutions to be removed.  Just wipe up the spill and you're done!

Durable

– Epoxy-coated concrete creates one of the most durable finishes available.  Epoxy finish is long lasting and resists considerable wear. After the epoxy is applied, it converts to a solid polymer, cures, and becomes incredibly strong.  You can drop sharp tools on it, stack heavy boxes on it, and of course drive on it, and it will look just as good as the day it was installed.

Safe

– Epoxy coating resists slippage, extreme impact, and high temperatures, and is resistant to fire, water, and shock.  There simply is no safer coating for your garage floor.
Epoxy flooring provides a professional and polished look to your garage, makes your life easier, and enhances your home's aesthetic.  Treat your home and yourself to this luxury without a second thought!
The Painting Craftsmen is the Jacksonville FL epoxy flooring experts!  We use a state-of-the-art, commercial-grade epoxy formula, and the best installation methods to ensure your epoxy floors look great and last.  We do intensive prep work, including thoroughly cleaning the surface and prepping it by grinding and etching so that the epoxy bonds perfectly and smoothly.  We install layer upon layer of tinted epoxy base coat, and colored texture pieces and chips, followed by a glossy finish coating, ensuring the floor is solid and long lasting.  It only takes a day or two, and then the floor dries and cures for another day or two, and it' ready to use.
It's easy to see why homeowners in Jacksonville, Fleming Island, Atlantic Beach, and Ponte Vedra Beach call on us to install their high quality epoxy flooring, as well as for painting projects, cabinet refinishing, and more.  When it comes to protecting your home and making it look great inside and out, The Painting Craftsmen is the company to call!