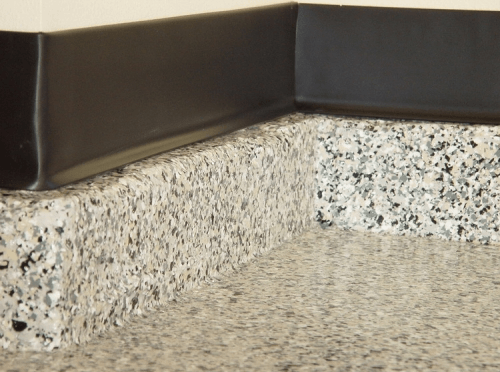 Before any big home improvement project, you likely do quite a bit of research, weigh your options, and spend time considering the pros and cons. Home improvement projects are big decisions, and you want to make the best choices you can for your home and money. Epoxy garage flooring is the easiest good decision you can make for your home.
Here's why:
– It's durable. Epoxy coating over your concrete garage floor creates one of the most durable finishes available. Epoxy finish is long lasting and resists considerable wear. After the epoxy is applied, it converts to a solid polymer, cures, and becomes incredibly strong. A finished epoxy garage floor is able to resist oils and other chemicals – even potent ones – that may spill. It's easy to see why warehouses, factories, and auto shops of all kinds choose epoxy for their floors.
– It's low maintenance. Epoxy garage flooring requires minimal maintenance, and enables quick cleanup of spills. Once coated in epoxy, the cement is sealed and no longer porous, meaning spills won't absorb and cause problems for you later. Spilled chemicals and oils won't require specialized cleaning agents, either; they'll stay on the surface of the epoxy. Just wipe them up and move on!
– It's safe. Epoxy coating resists slippage, extreme impact, and high temperatures, and is resistant to fire and water. It's also shock resistant. There simply is no safer coating for your garage floor. Once sealed in epoxy coating, your floors are protected. You can drop sharp tools on it, stack heavy boxes on it, and of course drive on it, and it will look just as good as the day it was installed.
– It's attractive. Epoxy flooring provides a professional and polished look to your garage flooring. When you apply epoxy flooring to your garage, you're making it as elegant as a garage can get. The flecks of color that make up the the epoxy design are available in a vast selection of colors and pairings, so you can choose a combination of colored flecks to perfectly suit your garage, or match the style of your home.
– It's perfect for your home. Regardless of what you use your garage for, epoxy flooring will only enhance it. Choose epoxy flooring for your home, and you'll wonder why you didn't do it sooner.
Epoxy garage flooring is the perfect fit for your home, and an easy decision for making your garage a safe, sturdy, and easy-to-clean workspace. The installation is a notoriously taxing DIY project, but if you're lucky enough to have a good professional epoxy floor installation company in your area, then the decision just got even easier. The Painting Craftsmen is the epoxy floor service Jacksonville FL homeowners call on. We are excited about epoxy flooring and it shows – we've invested in the best equipment in the industry, as well as in the training of our employees, making us the best choice for your epoxy installation needs. Our technicians are skilled artisans with an eye for detail, while still efficient and hardworking. Homes throughout Atlantic Beach, Ponte Vedra, Riverside Avondale, and all Jacksonville suburbs are making the change to epoxy garage flooring, and you can choose the same for your home. Call on us, and we'll get started with your free in-home estimate!