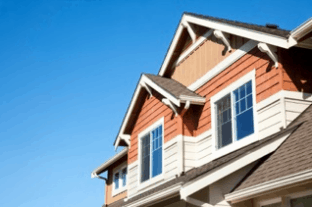 Spring is the best time to put your house on the market, and homeowners everywhere are thinking about how to get their homes ready to rent or sell. Your home's curb appeal is an important consideration as you prepare your property for the market, and a fresh coat of exterior paint is one of the quickest and most cost ­effective ways to greatly enhance your curb appeal.
The question is: how do you find the right paint for your home in order to get it ready to sell? Here are 4 things to consider:
1. Location: Find inspiration throughout our part of the country. We live in the sunny South, so don't be afraid to incorporate warm and inviting colors, whether throughout the interior and exterior of your home, or just in the details. If you choose beige or tan for the face of the house, and cream for the trim, then find a cheerful coral or turquoise tone for the front door. You'll be welcoming prospective buyers through that front door in no time!
2. Neighborhood: Take cues from your neighborhood, and specifically, from the homes on your very street. Do you live in a beachfront home along Ponte Vedra Beach? Use beach ­inspired neutrals, or a palette that emulates the sea itself. Do you live on a shady, tree­-lined street in Mandarin? In that case, your neighbors and you might incorporate deeper earth tones, in order to blend into the surrounding nature.
3. Architectural design: The style of your house will also help determine which paint colors you should use. For example, large Victorian­ era homes can easily incorporate 5 or more colors in bold and bright hues. Your Craftsman style home in Riverside Avondale would look best in the earth tones most loved by the architects and designers of that era. Your stucco home in San Marco would look best in beige or other pale neutrals, perhaps with an accent color to add to its allure. Research your home's era and borrow boldly from the time period.
4. Potential buyer: Put yourself in the shoes of your potential buyer. A prospective buyer might be turned off by overly zealous color choices, but a different buyer might adore those same colors. That being said, it's hard to appeal to all types of buyers, but when in doubt, keep to grays, beiges, cream, and other neutrals and let the prospective buyers use the neutral palette as their blank canvas to imagine themselves at home on your street.
After considering those 4 concepts, choosing the right color combination will be easy and will lead to great results. Stop in to your favorite local painting supply store and collect several paint swatch books. All of the most popular paint manufacturers publish brochures and books each season with classic color pairings, as well as the hottest trends and new shades and hues. Many good painting companies also employ color experts who can help you find the perfect palette for your home, and then once the technicians apply your chosen colors to the house, it's ready to sell!
Expert House Painting In Jacksonville FL
Getting your home ready to put on the market is a huge job, and painting the house is one of the most daunting parts of the process. Even savvy DIYers and often choose to find good house painting contractors and leave the interior and exterior painting to the professionals. At The Painting Craftsmen, we have spent years perfecting our skills for both interior and exterior house painting, and we offer the highest level of professional painting services in Jacksonville, Ponte Vedra Beach, Atlantic Beach, and throughout Northeast Florida. Our painting service is the perfect solution for your home, whether it's cedar shake or stucco, wood siding or aluminum. We specialize in transforming your home, from the siding and shutters, trim, and gutters, to the inside ceiling and walls. Each of our painters has been specifically trained for the job, and will provide expert craftsmanship from the prep work all the way to the final coat of paint. We use the best materials available, and this includes the highest quality paint and the right tools for each job. With this level of skill, craftsmanship, and commitment to quality and care, your home will stand out in the housing market. Call today for your free estimate, and let our team of professional exterior house painters get to work on your home.