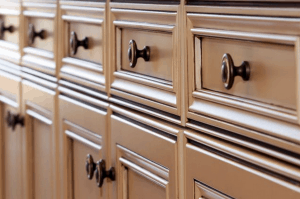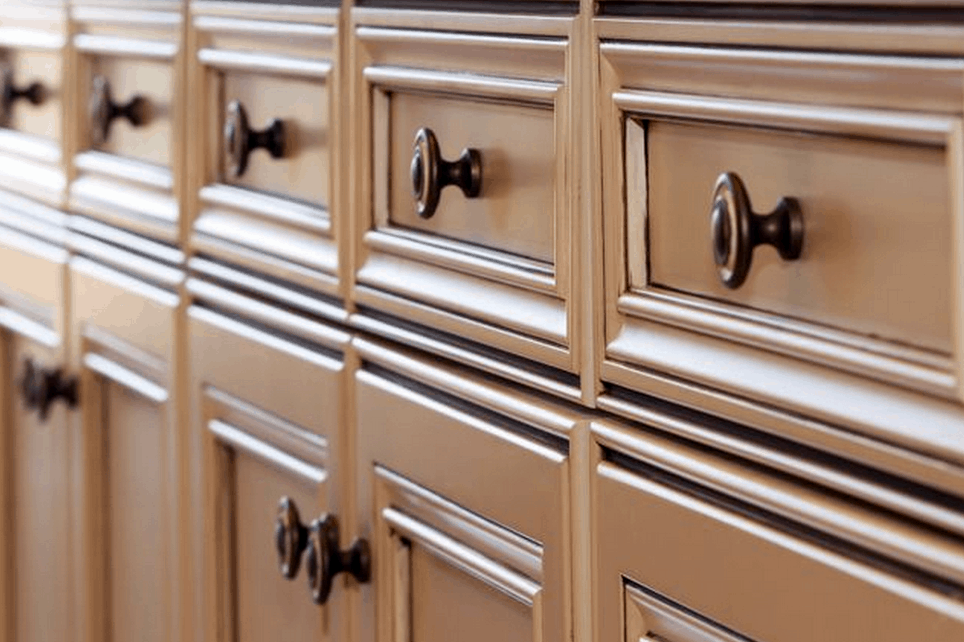 Changing your cabinets is an effective way to transform an entire room.  You can paint the walls in your kitchen and replace the appliances, but if the cabinets are dated or drab, your hard work is in vain.  Changing your cabinets adds character or warmth to your home, and adds value and curb appeal as well, if you plan to sell.  Depending on your budget, your timeline, and your aesthetic vision for your kitchen, you can choose to completely replace the cabinets, reface them, or refinish them.  The question is, which cabinet transformation method is best for you?
Option One: Replace Cabinets
Replacing cabinets is exactly what it sounds like – completely replacing them, including the boxes, doors, drawers, hardware, and all.  A professional (or extremely adventurous DIYer) will tear out and remove all cabinet components, and they'll either be thrown away or donated.  Then, you'll choose all new cabinets and they'll be installed.
There are two scenarios for which replacing cabinets is the best option:
You have an unlimited budget.  Of the three options, replacing cabinets is by far the most expensive.  The cabinet boxes are much more expensive than the cabinet doors or drawer fronts, so many homeowners avoid replacing cabinets and choose to reface or refinish them instead.

You are planning to remodel, renovate, or completely gut the kitchen.  Tearing out the cabinet boxes and putting in new ones is a costly, invasive, and time-consuming endeavor.  However, if you're redoing the kitchen, the layout of the countertops and cabinetry is likely changing, so replacing the cabinets would make the most sense.
Option Two: Reface Cabinets
Refacing cabinets means you'll keep the cabinet structure, but replace its front surfaces.  First, the doors and drawer fronts on your cabinets will be removed and discarded; the cabinet boxes will remain.  Then, you'll select and purchase new doors in whatever style you like.  A refacing company will then cover  the cabinet boxes in a vinyl or wood laminate that matches the design of your new doors.  Finally, your new doors and drawer fronts will be attached to the newly coated boxes.
If you like the layout of your kitchen but your cabinet doors are not the right style for you, cabinet refacing may be a good option.  Remember also that not all kitchen cabinets are manufactured equally.  If the cabinet doors are made out of a synthetic material and are not in good shape, then it might be best to reface them with new doors and drawer fronts.  As long as you are not remodeling your kitchen and changing the layout, the cabinet boxes can stay right where they are, and you'll avoid the extra cost and inconvenience of replacing them.  This option allows you to change the look of a room and still get some new features, but without the cost and mess of a total overhaul.
Option Three: Refinish Cabinets
Cabinet refinishing allows you to keep your full cabinetry, but change the color, design or style to whatever you want.  The doors and drawer fronts on your cabinets will be removed, and a professional painting company will refinish them in the finish your select.  You may already have the perfect finish or color in mind – perhaps something you saw in a magazine.  Or, you may prefer to consult with the cabinet refinishing professionals you have hired, and together find the perfect design for your home.  Either way, once you have chosen your finish and style, the cabinet refinishing team will go to work.  First, they'll remove all doors and drawer fronts from your cabinets and take them offsite to be refinished.  Then, they'll come to your home to prep and refinish the cabinet boxes.  Finally, they'll attach your newly perfected cabinet doors and drawer fronts onto the freshly finished cabinet boxes, and the process is complete!
If you like the layout of your kitchen but want to update the cabinets or change the look of the room, refinishing is the best option for you.  Cabinet refinishing is the the least invasive and most convenient option for changing your cabinets.  It's also almost always the most economical option.  The best cabinet refinishing companies know how to apply numerous stains, lacquers, varnishes, and design techniques so that you can have the cabinets of your dreams.  That means that if you want to match the new cabinet color to your favorite dish pattern, or have a custom two-tone finish, or a stained wood finish with an accent glaze, you can!  If you choose to have your cabinets replaced or refaced, then you are limited to what the stores and manufacturers have to offer, but if you have them refinished by a highly-rated professional painting company, you can have whatever look you want.
The Best Jacksonville FL Cabinet Refinishing Service
At The Painting Craftsmen, we offer a level of quality in cabinet refinishing that is unsurpassed.  Our highly skilled refinishers will transform your cabinets into the design you've been dreaming about, whether that is a tinted lacquer in the perfect color for your kitchen, a hand-detailed rub through finish, or an antique glaze to coincide with your home's era.  We hand sand each door and drawer front, then hand spray each piece in our state-of-the-art spray booth, so that each door will have a smooth, even, high quality coating.  Many homeowners ask us to create a factory finish for their cabinets, which is no problem for us.  We stock the same catalyzed lacquer and conversion varnish that the manufacturer's use, meaning your cabinets will have the same integrity and look as a brand new cabinet from the factory.  It's easy to see why homeowners in downtown Jacksonville, Atlantic Beach, Ponte Vedra Beach, and throughout the region choose us for their painting and cabinet refinishing projects!  The Painting Craftsmen is the best Jacksonville FL cabinet refinishing company, and the evidence is in the quality of our work.  Cabinet refinishing is our specialty, and to us, it is an art.  We'd love the opportunity to give your cabinets a fresh and luxurious finish.