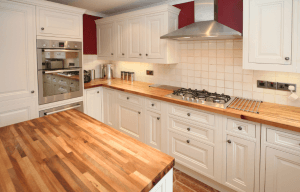 Kitchen cabinets receive daily use, and the wear and tear can really begin to show. Cooking grease, spray oil, and dirty fingerprints build up on cabinet surfaces, and nicks, dings, and dents seem to mysteriously multiply. Outdated cabinets likewise can make an entire kitchen seem old or rundown. Finishes and wood stains begin to fade, and paint can chip and peel after years of use. Whether your cabinets are looking dated or dirty, or if you're simply tired of your kitchen's appearance, it's time for a transformation!
The Smart Alternative To Replacing Cabinets
It's no secret that replacing your kitchen cabinets can cost a small fortune. Luckily, your local professional painting company can save you money by refinishing your existing cabinets. Applying a fresh coat of durable, solid color lacquer or refreshing your cabinets with a tinted lacquer application will give them a great new look and feel, and will save them from being ripped out and replaced – a messy, expensive, and time-consuming project. A great cabinet refinisher is a craftsman of his trade, with carefully honed skills, and an eye for color and detail. Your cabinet finishing expert will be able to recommend the best sheens and finishes for the look you want – sleek, satin sheen cabinets for your modern, Scandinavian style kitchen, and antique glaze for your villa-inspired home.
Jacksonville, FL Cabinet Refinishing
Cabinet refinishing is one of our most popular services at The Painting Craftsmen, and our vast level of experience has made us the best in the business! A large part of our Southside workshop is devoted to cabinet refinishing, with technicians trained specifically to be artisan cabinet refinishers. We offer a myriad of artistic finishes and applications so that it's easy to find the perfect match for your own kitchen. We specialize in the following finishes:
Solid color lacquer: Multiple applications of highly pigmented, pre-catalyzed lacquer are sprayed evenly onto each cabinet  surface.

Tinted lacquer: A clear, lightly tinted topcoat highlights natural wood grain and gives the look of restaining, but without the added expense of stripping off the previous coatings.

Rub through: The edges and corners of painted cabinet panels are gently sanded to reveal the underlying wood grain.

Accent glaze: A tinted glaze is applied over color panels, then hand wiped so that it only remains in the edges and corners, creating a sophisticated contrast. Stained wood finishes can have accent glaze applied to enhance the wood grain.

Antique or distressed glaze: Faux wormholes and artistic marks are added by hand to the panel. Then, similar to the process of accent glaze application, a tinted glaze is applied over solid color panels. The glaze is wiped by hand so that the tint of the glaze remains in each artistic mark, leaving the cabinet looking like a unique and authentic antique.
Our process for refinishing cabinets reflects our commitment to true craftsmanship.
Step 1: To begin, each cabinet face is sanded by hand.
Step 2: Dust from sanding and all other particles and debris are cleaned off by forced air, leaving nothing but a perfectly smooth surface to be covered by the chosen paint or stain.
Step 3: Your selected stains, lacquers, and glazes are expertly applied.
Finishes are sprayed on in our professional-grade refinishing booth, guaranteeing a smooth surface and even application.

Stains are hand wiped into the wood face of the cabinet in order to penetrate the grain.

Details are meticulously done by hand, such as gentle sanding for a distressed look.
Step 4: The last step for any and all refinished cabinets is the application of a clear protective lacquer. This lacquer will seal your cabinets from moisture, increase their durability, and protect the unique artistic finish. Finishes are available in flat, dull-rubbed, satin, or semi-gloss sheens, depending on the look you desire.
Many homeowners consider the kitchen to be the most important room in the house. Let The Painting Craftsmen help create the kitchen of your dreams by refinishing your cabinets with a new color, an artistic glaze, and even brand new knobs and drawer pulls. We are the best cabinet refinishing company in Northeast Florida, serving homeowners throughout downtown Jacksonville, Ponte Vedra Beach, Atlantic Beach, Fleming Island, Riverside, and along the beaches. Don't spend another day looking at old and worn kitchen cabinets! Call today and set up your free in-home estimate.