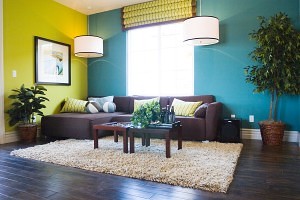 As a team of artisan painters working exclusively for residential clients, we've seen an amazing range of interior design styles here in Jacksonville, FL. Some homeowners have a very specific design style with every detail figured out. Others prefer a blend of two or more compatible interior design styles while some are still exploring and experimenting to find the best style of interior design for their home.
Elements of Interior Design
When you change interior design, you're not just changing a few curtains or getting a new rug- you're changing it into a different space entirely. How the entire picture looks, how you use and live in the space, and even the way each room makes you feel, are all ways that interior design impacts your home. While styles of interior design can look and feel dramatically different, they all incorporate and balance the same basic elements.
Color: Not only does color change the appearance of the room, it has a huge impact on people's moods. This makes it an incredibly important aspect of design because the right color scheme can help you create the perfect atmosphere. As we mentioned in our interior paint guide, painting certain parts of a room with the right colors can even change how the actual structure of the room appears.

Texture: Proper use of texture changes how the interior design feels, both literally and figuratively. Smooth textures tend to give a simple, peaceful feeling, while rougher textures tend to add a stronger, cozy feeling to the style. You can add texture or tone it down with your choice of furniture and accessories, by refinishing cabinets and painting walls, and by changing the lighting.

Lighting: The type and amount of lighting can make or break any design. You can use lighting to make a room more functional, highlight focal points, create ambiance, and accentuate colors and textures.

Form: For successful interior design, a room needs to have a good outline with the right proportions. The form of the room and furnishings creates lines that will direct the eye where to go and good design uses that to the best advantage.

Furniture: Your choice of furniture has an impact on all of the elements of your design so it's very important to consider its shape, placement, color, and texture.

Accessories: The artwork, rugs, and special objects in a room are extremely important. While some things are chosen to accentuate the design, others might inspire the design to be created around them.
Basic Interior Design Styles
You know the design elements but which style has the right ones for you? Here are a few styles with notable features you might want to look at:
Modern & Minimalist: Both aim for function over flair, and are known for using simple lines, subtle textures, and open space.

Classic: Elegant without being over-the-top, with good balance, natural colors, and a clear focal point.

Art Deco: Balanced and elegant but with more decorative accessories and bolder patterns than Classic.

Urban & Industrial: Both use traditionally industrial materials, like metals and concrete and tend to highlight structure, using lighting for texture.

Retro: Puts a new twist on styles from previous decades, featuring eclectic materials and objects and can vary greatly by which decade it's modeled after.

Country: Cozy and comfortable with lots of rough finishes, natural and plaid patterns, and varies to specific country culture (American, English, French, etc).

Rococo: Very flamboyant styling along with ornate designs and decorations, and rich materials.

Georgian: Tends to use luxurious fabrics, delicate furniture, and subtle color schemes for more understated elegance.

Victorian: Known for being extremely luxurious and decorative with relatively plain walls and floors to emphasize extravagant furnishings.
Finding Your Interior Design Style
It's much easier to examine different design styles once you know the elements that are involved. As you look at different interior design styles, it can also help to keep a list of the things you like and dislike about each style. Not only will it give you a more detailed impression of each style, it can also be a huge help if you decide to blend styles together.
Look for inspiration to get a general idea of what you like and to help you decide on specific details. Find photos online or in magazines and books, watch a few shows on TV, or even look to some of the places you've been and the things that you love for inspiration.

What style is the exterior of your home? You can find almost any style of architecture here in Jacksonville, from the heavy styling of Gothic Revival to the more flowing Prairie homes and everything in between. Whether you choose to coordinate your interior and exterior to match or contrast, consider the overall architecture of your home when you decide which style to use for your interior.

Keep an open mind while you look at different styles, and allow yourself to be creative. A strict style is not for everyone. You might even find that blend of styles provides all the aspects you love and mixes them flawlessly.

Which style feels best to you? Don't forget to factor in your everyday living and comfort when deciding on your new design. The best style of interior design is one that makes you truly feel comfortable and at home.

If you've figured out most of your interior design style but you still have a few things that you're not sure about, don't hesitate to ask experts for help. Our craftsmen are accustomed to working with residential repairs, painting, and refinishing; and we're are always happy to help provide information and ideas to make sure you find exactly what you're looking for to make your design perfect for you.
Whether you already know exactly what you want your home's interior to look like in every detail, or you'd like more information about interior design, please feel free to contact our team of experts here at The Painting Craftsmen.