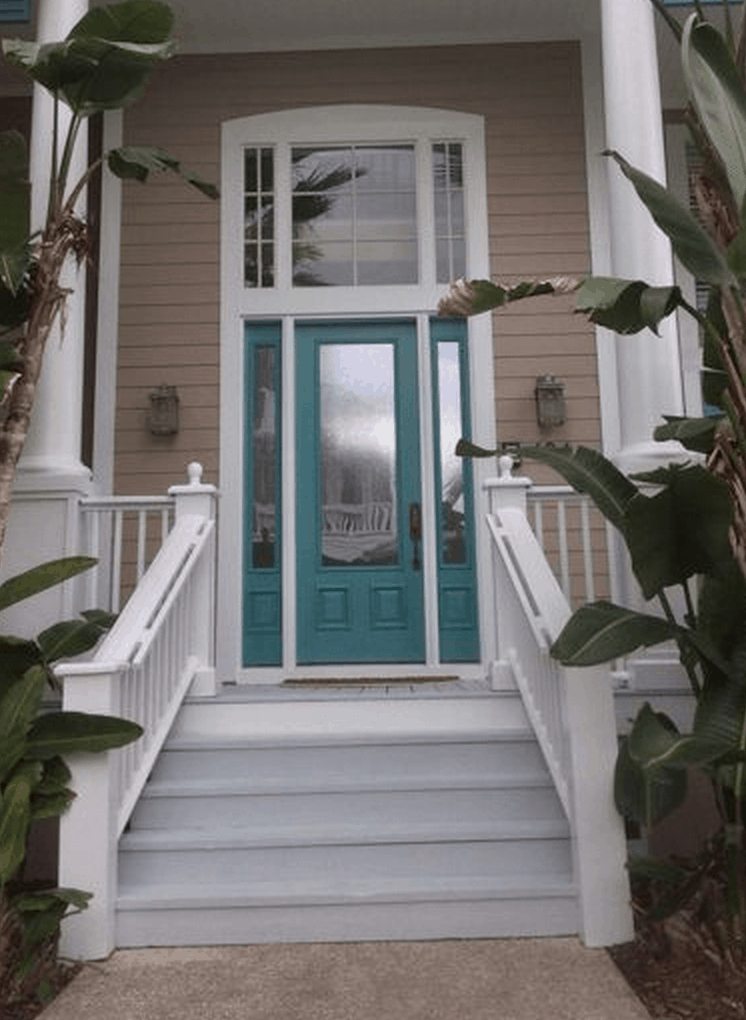 More and more homeowners are choosing to make their front doors pop with bright and unexpected colors.  With this simple project you can transform the feel of your home, express your own creative side, and give an otherwise understated landscape a burst of personality.  If you're thinking of selling your home, a bright, freshly painted front door will massively bump up your curb appeal.  Best of all, the entire project can usually be done using just one can of paint and a single weekend or less.  It's a simple, affordable, and fun way to perk up your home – no wonder so many people are doing it!
A Bold, Bright Front Door For Your Own Home
We have countless clients, each with his or her own taste and sense of style.  Some clients love to make bold statements with the colors they choose for their houses, while others prefer for their homes to blend into the scenery.  The trend of brightly colored front doors is growing, though, and homeowners of all types are curious about the the best way to make their front doors into a centerpiece.  Here are some of the most common remarks and questions we hear from customers as they consider the colors of their front doors.
"I want to make a bold statement!"  Great!  Your front door is the perfect "canvas" for you to express your creative side.  Your home may be traditional red brick or gray stone, but with an unexpectedly bright or colorful front door, it becomes uniquely yours.

"I don't want anything too crazy…"  You can incorporate a fun or unexpected color while still remaining low key.  Choose your favorite green, blue, or orange, but in a softer tone or lighter shade.

"My home is a historic home."  Historic homes provide equal opportunities to express some creativity.  You can still maintain a historically accurate house and fit in with the neighborhood, even with a colorful front door.  Craftsman style homes like the ones in Riverside Avondale lend themselves well to colors that are warm but bright.  Homes in the Mid Century Modern (MCM) style, like you might find in San Marco and Lakewood, are known for their bright colors.  Indeed, eccentrically colored front doors were an earmark of the era!  Older beach homes along Atlantic Beach, Jacksonville Beach, or Ponte Vedra Beach are often made of cedar shake that gets its beautiful patina from the daylong sunlight.  A brightly colored front door would only enhance the look!

"What will my neighbors think?"  You're not changing the color of your entire home – only the front door.  If you regret the decision, you can always change the color back to a neutral tone with a single can of paint.  On the other hand, your neighbors may very well love it, and you'll have brought an exciting trend to the block!
The Best Paint Color For Your Front Door Makeover
Here are some of our favorite colors, and the traditional siding colors against which they look the best.  These are only suggestions though – don't be afraid to blaze a new trail for your own door!
For a white house, try a bright blue, turquoise, or teal.  We like "Reflecting Pool" (Sherwin-Williams) and "Stone Blue" (Farrow & Ball).
For a light gray house, try a warm orange or poppy red door.  We like "Terre D'Egypte" (Farrow & Ball) and "Fiesta Orange" (Benjamin Moore).

For a tan or beige house, try an emerald green paint color like "Direct Green" (Sherwin-Williams) and "Seaweed" (Benjamin Moore).

For a darker brown house, try lime green, pale green, or pastel blue.  We like "Pale Powder" (Farrow & Ball), "Fusion" (Sherwin-Williams), and "Pistachio" (Benjamin Moore).

For a blue house, make the door a complementary color by using yellow.  The right shade of yellow will make a friendly and welcoming entrance for family and guests.  We like "Decisive Yellow" (Sherwin-Williams), "Hound Lemon" (Farrow & Ball), and "Sundance" (Benjamin Moore).

For a charcoal or dark gray house, try a coral tone.  We like "Oriole" (Benjamin Moore) and "Lei Flower" (Sherwin-Williams).

For natural cedar shake, try a bright red door.  We like "Rectory Red" (Farrow & Ball) and "Vermillion" (Benjamin Moore).

For a red brick house, try a navy or cobalt paint, such as "Blueblood" (Sherwin-Williams), or "Midnight Navy" (Benjamin Moore).  If your brick has more brown tones, try a purple tone for the paint, like "Scandinavian Blue" (Benjamin Moore) or "Valiant Violet" (Sherwin-Williams).
The Best Jacksonville FL Professional House Painting
This is the perfect time to spruce up your home's appearance, and a freshly painted front door is the best way to do it.  Find your favorite color in a tone that complements your house, buy a gallon of paint and some brushes and small rollers, and you've got yourself the perfect weekend DIY project.  Or, if you just want to enjoy the finished product, find a great painting contractor like The Painting Craftsman.  We are the best Jacksonville house painters, and we specialize in making your entryway welcoming and inviting, starting with the front door.  Let us transform your front door into a work of art that you can enjoy every time you come home!