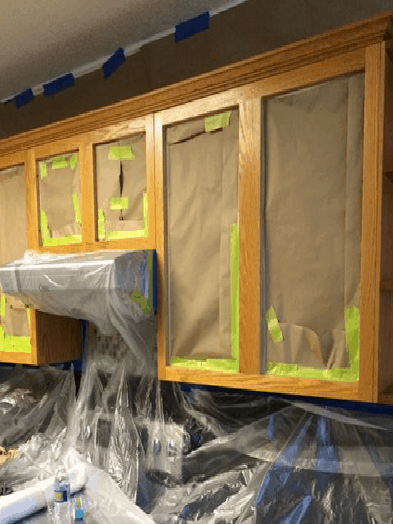 For every surface to be painted, there is a method that suits it best. The traditional paint brush and roller are still the best option for many painting projects, but there are some areas of the home for which a paint sprayer will do the best work. In most cases, a combination of methods will be used for your project to create the best possible final product. Great painting contractors know how to make each part of your house look its best, and will know when to brush, when to roll, and when to spray. As a homeowner, it can be intimidating to think of paint being sprayed onto any area of your home, but there are actually many cases in which the paint spray gun is safe and effective and will give the best results.
Using A Paint Sprayer For Exterior Painting
It's very common to use a paint sprayer on exterior painting projects. For these outdoor projects, your contractor will typically use an airless sprayer, in which paint is pumped out of a hose at a high pressure in a way that provides an extremely smooth and even coat, often in a shorter amount of time than it would take to apply the paint with a roller or brush. If you want a factory finish appearance for a feature of your home, it can only be achieved through spraying. For example, aluminum soffits and gutters can look as if they are newly installed after a professional spray gun paint application. On other areas of your house, such as on the siding or panels of your home, painting technicians will use paint spraying, then will use a paintbrush to "back brush" or a roller to "back roll" to apply an even coat of paint.
Using A Paint Sprayer For Interior Painting
The only interior painting project for which your contractor would use a sprayer is cabinet refinishing. Cabinet doors are unhinged and taken out of the house to be sprayed. In some cases, the contractor may spray the cabinet doors on your property, but only after having protected the entire spray area with plastic. The best painting companies have professional spray booth on their premises. In these cases, the doors are transported to the spray booth where they are sprayed in a hood, posing zero risk to your yard or property. The cabinet boxes, however, are installed in your kitchen and need to be sprayed in place. Your contractor should use an HVLP (high-volume low-pressure) spray gun in order to provide the best and most even coverage with the least amount of overspray or mess. Though only a small amount of overspray will be produced, the contractor should mask off the entire workspace to protect your home. All areas except the cabinet boxes should be completely sealed with plastic, including appliances, the cavity of the cabinet, the surrounding walls, and in many cases, the floor and ceiling. A good painter knows that taking the time to mask off the area will keep the homeowner's belongings safe, make cleanup easier, and make the final results look great.
The Marks Of A Great Painting Contractor
For better or for worse, paint spraying can differentiate the great painting companies from the subpar companies. Just as it is in any home improvement project, you get what you pay for, so do a bit of research to make sure your painting contractor not only has the skills for the job, but will take the right precautions to protect your home. This means properly masking off the work area, outfitting all technicians with protection against the fumes, and cleaning up after the job is completed.
The Best Jacksonville FL Painting Contractors
At The Painting Craftsmen, we pride ourselves in excelling in exterior painting as well as interior painting, including cabinet refinishing. Our technicians are experts, and have been sharpening their skills for years on homes throughout Jacksonville, including Jacksonville Beach, Ponte Vedra, Riverside Avondale, San Marco, and more. We know that paint spraying can be an intimidating task to many homeowners, and that's why we specialize in preparing the surface and surrounding area, protecting your home, and handling the spray gun safely and proficiently, leaving nothing but beautiful and freshly painted surfaces in your home. We treat your home as if it were our own, and we guarantee you'll love the results. Let us get started on that painting project you've been dreaming about!