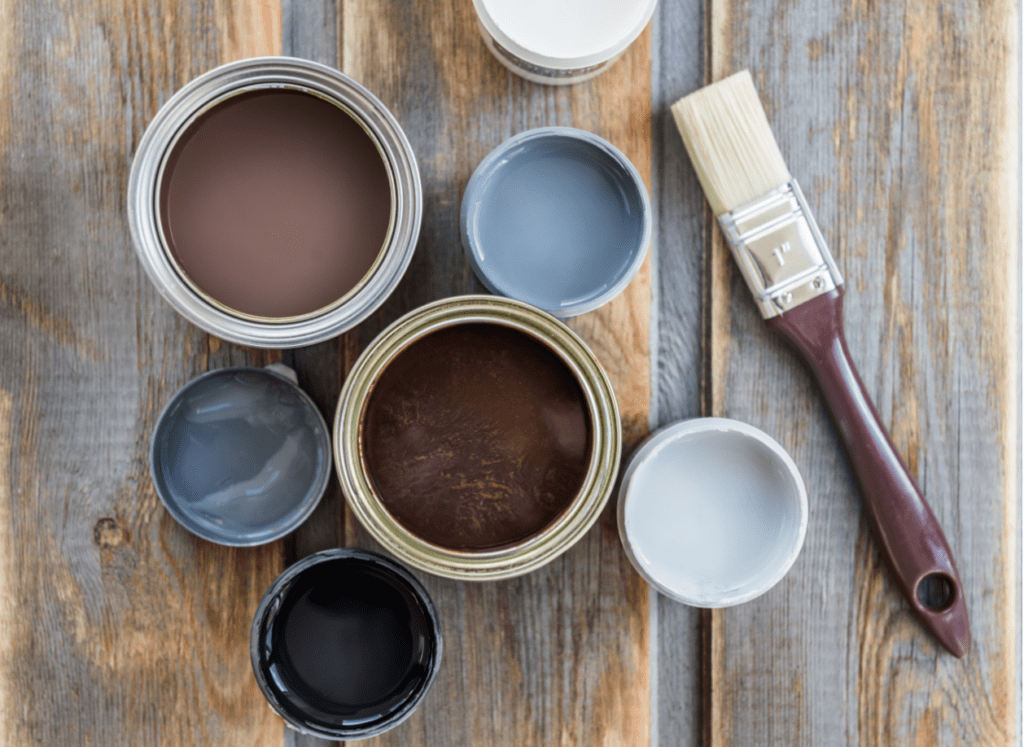 When planning an exterior house painting project, there is a lot to consider.  One of the first decisions you'll need to make is what type of application to use: paint or stain.  Our pros and cons can help you make the right choice for your project!
Acrylic Latex Paint:
Summary – Acrylic latex paint is water-based, available in numerous sheens and every conceivable color, and the favorite of professional painters and DIYers alike.

Pros – Acrylic latex paint is flexible, even once it dries, enabling it to "breathe" and accommodate changes in temperature without cracking.  Acrylic latex paint is easy to apply and easy to clean up; brushes can simply be cleaned with water. Acrylic paint covers its surface thoroughly, and a high quality paint job last for years.  

Cons – It's hard to think of a downside of using acrylic latex paint!  Acrylic paint dries more quickly than oil-based paint, so as you work, you'll need to be sure you don't leave laplines or brush strokes.
Oil-Based Paint:
Summary – Oil-based paint used less frequently than acrylic latex paint, but there are still certain surfaces for which oil-base paint is good to use due to its hardness.

Pros – Oil-based paint is extremely durable.  It hardens when it dries, and becomes even harder with time, making it ideal for exterior surfaces that get a lot of use, such wooden stairs, or the floor of a covered porch.

Cons – In addition to hardening over time, oil-based paint also gets brittle and cracks over time.  Brushes and tools that have been used to apply oil-based paint must be cleaned with harsh (and toxic) solvents.  The fumes emitted by oil-based paints are strong, and require adequate ventilation during application.
Stain:
Summary – Stain seals and protects wood siding, and allows the wood to show through the coating (unlike paint, which thoroughly coats the natural features of wood).  It comes in three finishes: clear, semi-transparent, and opaque.

Pros – Stain often does not require the same amount of rigorous surface prep work that paint requires, and does not require primer.

Cons – Stain is not as protective as paint.  Sunlight can still penetrate the stain and cause the wood to discolor.  As such, stain generally needs to be reapplied more frequently than paint would require.
Important Tip: Regardless of whether you choose paint or stain, and which particular finish you choose, it's important that you choose a high quality product.  With both paint and stain, many homeowners and subpar painting companies think that by purchasing the cheapest paint, they'll save money. In reality, the opposite is true: If you invest in high quality paint, you'll generally need fewer coats to get the coverage you want, and the coating will last longer and look better.
Painting and staining projects are complex and require skill to get the desired results.  Most homeowners choose to call on a great professional painting company for the job! The Painting Craftsmen is the best painting service Jacksonville FL homeowners trust for their painting projects.  We're passionate about our craft and take great pride in providing homeowners throughout Mandarin, Riverside Avondale, Ponte Vedra, Ortega, and downtown Jacksonville with the highest quality paint application on the market.  Our technicians are highly trained and skilled professionals who our clients call on time and again for their painting projects. When you plan your next painting, staining, or cabinet refinishing project, call on us!