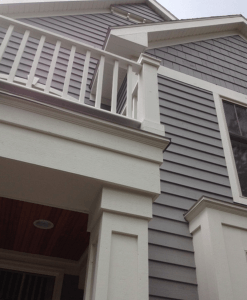 As you plan you house painting project, the cost of the job is probably at the front of your mind. How much does it cost to hire a painter to paint your house? Simply put, it depends! Painting projects come in all types and sizes, and the materials, the skill-level of the house painters, and the size of the job all impact the final cost of a new coat of paint.
What Affects The Cost Of A Painting Project?
You may be dreaming of a beautiful faux finish in your dining room, or an expertly finished woodgrain design on your new front door. Perhaps you simply want to get your home's exterior painted in a brand new color. As you can imagine, the tools, materials, and specific techniques for each job differ greatly and affect the cost of the paint job. Even beyond the materials and process, there are many components that determine the cost of your painting project, including:
The area to be painted:
Size: Naturally, the size of the area you want painted will determine much of the cost of the painting project. The larger the house or room, the more labor and materials will need to be used.
Style: The style of the home or room affects the price of the job. A room with multiple windows is more complicated to paint than a room with no windows, and therefore will cost more. Likewise, a single-story ranch house is less expensive to paint than a multi-story house that requires the use of tall ladders, or a house with a steep roof that would require the painters to have special training.
Prep work: The amount of prep work required for a paint job will affect its overall price. If a room needs to be spackled and sanded, or requires a drywall repair, it will cost more than a room that is simply ready for a fresh topcoat.
Materials:
Equipment: The quality of brushes, rollers, and paint sprayers affects how the paint is applied and how the finished product looks. A company that invests in quality tools and equipment is committed to doing quality work.
Paint quality: Different brands of paint offer different levels of quality and coverage. It is tempting to buy inexpensive paint, thinking you are saving money on the job. However, cheap paint arrives at its low cost because it is diluted with water or solvents, and therefore requires multiple coats to evenly cover a wall. Good quality paint is highly pigmented and covers surfaces in fewer coats, so you often save money by selecting the high quality paint.
Paint color: Even the color you select for your home can affect the final price of the job. For example, you may have plain white walls that you'd like to change to a deep, warm red. Several coats of primer as well as several coats of paint may be required to reach the tone you want.
Application method: Different surfaces and finishes require different techniques, and some cost more than others. Faux finishing, intricate stenciling, and other detailed work is labor intensive and therefore can cost more.
Employees:
Experience and skill level: A highly skilled painter with years of experience will do a better job of painting than a beginner painter. Hiring local painting companies who train their employees and give them proper experience is the best choice for a high quality paint job.
Insurance: Look for a painting service whose employees are bonded and insured. You may pay a little bit more, but you know your home and property will be protected.
Customer service: The earmark of a great professional painting company is its ability to provide excellent customer service. The best painting companies are the ones whose employees are dedicated to doing the best work while providing unsurpassed customer care at the same time.
The Best Of The Jacksonville, FL House Painters
Just as there are painting jobs of every size and style, there are painting contractors of every type, and you get what you pay for! The Painting Craftsmen is the best painting company in the greater Jacksonville area, with a growing customer base throughout Riverside Avondale, San Marco, Ortega, Ponte Vedra Beach, and Jacksonville Beaches. There are many good professional painting companies in Northeast Florida, but we set ourselves apart by offering the highest quality house painting available. We are highly selective in choosing the best technicians for each painting team, and each employee is extensively trained to meet our high standards. Planning a painting job is complicated, but we offer free estimates and will happily help you through the entire process, starting with the right color match. Call today and let's get started on your painting project!