Giving a room or two in your home a fresh coat of paint is an exciting and satisfying DIY project, but it takes a lot of planning to get it right.  As you plan your painting project, avoid these common mistakes!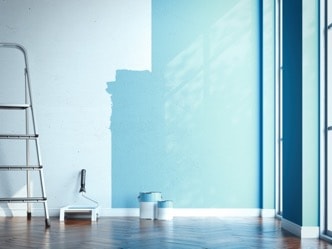 Don't skimp on protection. You need to thoroughly cover and protect the area where you'll be painting.  Cover furniture or move it far away from your work area. Lay down drop cloths to cover all nearby surfaces that aren't part of the painting project.  Spend time taping and masking off the area. You shouldn't cut corners on any of the prep work, and especially not when it comes to protecting your furniture and flooring!
Don't settle for cheap coatings.  Many homeowners think they'll save money by opting for the least expensive paint or coating.  In reality, the opposite is often true!  If you buy the cheapest paint, you'll often end up needing more and more, whereas if you select a high quality top coat with strong pigmentation and the right chemical makeup for your surface, you'll likely cover the area in a single coat.
Don't settle for cheap applicators.  Again, if you reach for the cheapest brushes and roller covers, you'll probably end up frustrated.  Fuzz from cheap roller covers and hairs from cheap paint brushes can come out and stick to your freshly painted walls.  Find high quality brushes and applicators that don't "break the bank," and your project will go smoothly, figuratively and literally.
Don't rush!  Once your painting project is underway, don't rush through the work.  When you rush, you'll get drips and spills, your lines won't be straight, and the coverage might be too thin on parts of the wall.  You need to take your time, keep your hand steady, and give the work the time and attention it calls for.
Don't bite off more than you can chew! House painting is one of (if not the most) cumbersome and tricky DIY projects out there.  Even small painting projects require lots of planning, lots of prep work, lots of manual labor, and lots of your precious time.  Why not call on a great professional painting company to do the job?
When your painting projects gets too big, call on The Painting Craftsmen, northeast Florida's luxury house painting service.  The Painting Craftsmen is the best Jacksonville FL painting contractor and the company to trust with your home's painting project.  Our technicians are trained and experienced painters and know how to perform each paint job with precision and efficiency.  We are the painting service of choice for customers throughout downtown Jacksonville, Riverside Avondale, San Marco, and along the Beaches, and we'd love to take care of your interior painting project for you.