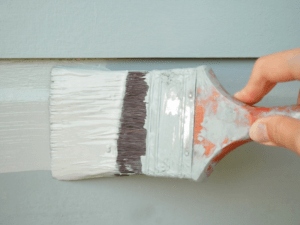 There are several tools that you need to have on hand in order for your painting project to go smoothly. Whether you're touching up scuff marks or repainting an entire room, these supplies will make a huge difference in how easily your project comes together, and how great the results look.
Painter's Tape – For painting projects, masking tape simply won't work as well as painter's tape. Painter's tape is just as easy to apply as masking tape, but painter's tape is formulated to keep even small amounts of paint from seeping through the seal. The adhesive in painter's tape is also less likely to damage the surface or pull up dried paint once the job is done and you're cleaning up.
Canvas Drop Cloth – You need to protect the floor in your work area, and canvas drop cloths are really the only good way to do this. Avoid using the alternative plastic sheathing, as this can cause slip hazards, and are frustrating to open and spread out.
Putty Knife – You'll use a putty knife for many things throughout your project: gently scraping away grime, pressing down painter's tape, and more, as well as smoothing over putty if the project calls for such a repair.
Quality Brushes – High-quality brushes may seem costly, but they are well worth the investment. With brushes – perhaps more than any other painting supply – you get what you pay for. A good quality brush allows you to cut in with straighter edges, hold more paint in your brush, apply even coats, and generally create great results.
Quality Rollers – Don't skimp on the roller covers and frames. Cheap roller covers hold very little paint, causing you to have to reload frequently, and making it unlikely that you'll get the room painted in a single coat. They're also more likely to leave bits of lint, streaks, etc. on your walls as you paint. Buy several good quality roller covers in the best depth of nap for your specific project, and you'll be able to coat the walls thoroughly and efficiently.
Extension Poles – Unless your painting project is small and simple, like a flat panel door, you'll want to purchase a good extension pole for your roller. This extension provides you with reach and leverage, and allows you to paint ceilings and full walls almost effortlessly. The extension speeds up the rolling process and also saves your wrists from becoming sore and tired before the job is done.
Invest in high-quality tools (and of course in high-quality paint!) and you'll enjoy the results and the process better than if you skimp on supplies. Or, just call on a great painting company and have professional painters check that painting project off of your to-do list for you.
The Painting Craftsmen is the best Jacksonville FL painting company and the right choice for your painting project. Our highly trained and experienced painters are skilled in applying coatings efficiently, smoothly, and with great precision. It's easy to see why our customers in San Marco, Mandarin, Ponte Vedra Beach, and throughout Jacksonville call on us every time they have a painting project in mind for their homes. Call on us for high-quality exterior painting, interior painting, and cabinet refinishing – you'll love the results!